Is blogging dead in this age of technology? Blogging has been around for several decades, and there are blogs on virtually all topics.
Blogs have been the primary source of information for most people. You can go online and get blogs from celebrities to movies and music.
As the internet progresses, people access other information sources to substitute blogs. YouTube, Tiktok, and other social media platforms are taking over as the primary source of information. So is blogging still relevant, and where will it be in the future? Let's see;
Is Blogging Dead?
Blogging is still alive even with countless other sources of information. There are over 409 million monthly visits on over 20 billion blog pages.
More than 53% of businesses use blogging as their primary marketing platform as they recognize its hold. Blogging depends on the existence of the information, and while information exists, blogging will remain relevant.
Getting Details On The Relevance Of Blogging
The harsh truth is that most blogging is ending, and most of the typical practices are dead. If you continue some traditional methods, your blogging business will collapse. Blogging is far from dead; if anything, it is more popular now.
Blogging is still relevant, it has only changed from what it used to be, and it keeps changing. As a blogger, it is crucial to keep up with the evolution to stay relevant. Let us look at the parts of blogging that are dead or dying to help you stay relevant;
1. Clickbait headlines
Originally, it was a good idea to use shocking headlines that would capture the reader's attention, and they would have to click it. The headline baits a user into visiting the page, but it can't satisfy your reader's intent.
You are promising a reader something mind-blowing, and in most cases, you can't deliver on the promise. This will make people get off the blog and kill the website.
Google will not rank it highly since they will feel it isn't interesting. Write headlines that you can deliver on to keep readers interested.
2. Blogging about everything
Bloggers that are enjoying the most views these days are those that stick to a few topics. Sharing a bunch of random posts on different things will be confusing to readers. People are looking for a specific human to help with problems in specific fields.
If you offer generic information, you are not different from any other website. Focusing on one field ensures your readers that you are a specialist who knows what they are talking about.
3. Posting all the time
An older blogging technique was posting more content to get more traffic to your website. In the past, more posts meant more social media presence and traffic since the content was not easily available.
Today, content is more easily available on the internet in videos, GIFs, and so much more. Focus on quality rather than quantity when creating a blog. Create unique content to get and hold the reader's attention.
4. Failure to update old content
Continue updating your older content as you post new content. Make sure your information is up to date at all times since people will keep reading the post. Do constant content audits to find areas that need updates.
Users will stay away from blogs that give them irrelevant or wrong information. Broken links, outdated strategies, and outdated statistics are particular red flags for most. To stay relevant, you need to keep the old information accurate and add new information.
What Is A Blog?
If you have internet access, you must have read a blog at some point in your life. More than 60%of internet users read blogs, and there are billions of pages. Let us take a closer look to understand what they are about;
The name blog comes from a combination of web and log. A blog is a logging of users' ideas, thoughts, experiences, and more, all in one place on a website. Blogs are pretty open since they depend on the writer's interests.
There are blogs for all subjects, including sports, politics, lifestyle, technology, etc. A blogger constantly updates the blog with information for their readers. The goal for most bloggers is to get as many readers as possible.
You know the basics of a blog; you can use this video to learn more, but why are they so popular? Blogs are really easy to use, and you can share thoughts, news, opinions, and anything with a click of a button.
Your blog is the ultimate expression of you on the web, and you can customize it to look however you want.
The blog's theme determines how your blog will look. You can select a theme and personalize it with colors, background images, and other visual additions.
Changing the theme is easy, so you can always get something that fits your personality. You also need to connect with viewers and make it easy for them to get content. Most blogs consist of 4 primary sections, the header, sidebar, footer, and body.
What Is The General Structure Of A Blog?
The header has your blog's title will have the name, logo, and main navigation tiles. The menu is simple and allows the guests to navigate the site's content easily. Menus are a natural part of the website experience; they link users to the pages on your blog.
The sidebars are common in blogs; they could be on one or both sides of the page. These parts often have widgets and other things you want to highlight. It can have links to other pages, social media posts, and other important items to the readers.
The footer is at the bottom of the blog. You can use this to display content that will not change often, but you need the users to access it. This can include links to a home page, contact information, or other pages.
The main part of any blog page is its body, the primary content presentation area. This is the main reason readers visit your blog; you can share your thoughts and ideas. The topic can vary, but the best blogs always stay within a similar field.
When it comes to blogging, pages are different from posts. Pages are constant, with content that remains the same, like an about me or contacts. Posts are the core of any blog, and this is where bloggers publish their thoughts.
The posts will be on your blog's main page in a standard format. The best blogs will order the posts in a way that gives the user the most relevant information first. These will be the blogger's daily updates or news on the topic; new stories will appear at the top of the list.
The best part is that the posts offer space for a comment section. This allows all the readers to share thoughts and provide support and feedback. This creates a community through blogs, which is why they are so popular.
You can share videos, music, and many other forms of data, giving bloggers freedom of expression. Mobile phones have made it easier to access blogs, and as internet access reaches more people, blogs will get more users.
Why Are Blogs So Popular?
Blogs have been around for over two decades, and their popularity is only increasing. Blogs are very popular, which is why they managed to stay relevant for so long. So what makes blogs so popular for readers and bloggers? Let us get into it and see;
1. Bloggers can make money.
One of the biggest motivators for people to start blogs is money. There are many ways you can make money through blogs, as this video demonstrates. One of the easiest and most common ways is by writing posts from sponsors.
A business will pay a blogger to write and post about its product. You can also use affiliate programs from online vendors like Amazon. You promote their products and get a cut when your readers buy them.
You can also run an online course on your blog and have users pay a subscription fee. For free blogs, you can place ads and get money from the ad agency based on your views. The more popular your blog is, the more money you will make.
2. Anyone can start a blog.
Blogs are easy to create, organize and update. They can be about anything, so it is not difficult for anyone to start a blog. You don't need advanced programming or writing skills to start a blog; many people can use it.
To create a blog, choose a domain name, buy one for your site, and then find a good hosting company like Bluehost. Choose your platform, i.e., WordPress, and you will be ready to post your content.
There is a ton of information on the internet about starting a blog. Most platforms automate the steps for you, making it simple even for newbies. You will need some marketing and money to start, but it shouldn't be a problem.
3. It is a great way for companies to reach customers.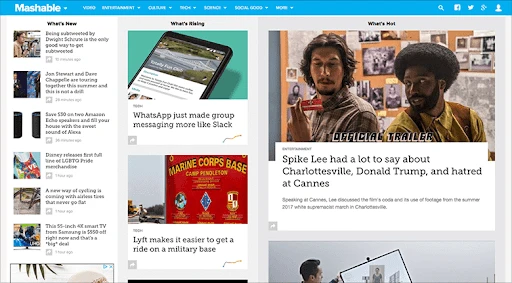 Blogging is a common way for companies to market their products, opening up many opportunities.
Small and huge businesses always use blogs and their readers for marketing. One of the most common ways of marketing is ads.
Companies will reach out to popular blogs to have them post their ads for products readers could want.
This allows businesses to get many potential customers and bloggers to get money. You can also write promotional material for companies, and they will pay you for it.
A company can start a blog to reach its customers and tell them about new products. You can have affiliate links and posts about offers and services. A blog is a terrific, easily updatable option that will be helpful to any company.
4. Readers trust bloggers more than mainstream media.
Blogs have a personal touch you wouldn't get from a corporation or mainstream news outlets. This makes readers trust bloggers more than journalists, increasing their popularity. Most of the time, bloggers use their real full names, and you can find them.
As such, blogs get popular over reputation, and bloggers try to maintain a good one. Product reviews will be more honest, and recommendations will be better from a blogger. Most bloggers want to share their honest opinions and use their blogs.
Most bloggers choose their content based on passion; therefore, they reflect their true views. Over time bloggers build a friendship with their readers, which makes it even better. As a blogger, you can be sure that your readers will believe your information.
5. It is a creative outlet.
One reason why blogging is so popular is its creative freedom. Blogging has given millions of people a way to share their emotions and thoughts. It is a place to showcase your personality and link with a community that shares your interests.
You can use a blog to express your idea in a way you would never speak out loud. This can be a great journey, allowing bloggers to better connect with themselves. You will get more information and meet new people, which is important for development.
Blogs don't restrict you on what topics to discuss, it can be anything, and you can mix several topics. Some bloggers use blogs like diaries to document their lives and important events. Expressing yourself can be therapeutic; a blog gives you this chance and an audience.
Conclusion
This was an article for someone wondering, Is blogging dead? Blogging is still relevant, and it will remain so for years to come. The only thing that will be different is how we access blogs and the form they take. Blogs rely on daily human activity, so they will always exist.
Blogs have numerous advantages, making them remain popular for a long time. Their simplicity and informal nature attract many new bloggers. The community that blogs form encourages users to keep reading, so the genre will remain relevant.