A few months ago, I was discussing with a client my team and I just finished designing a professional-looking website for, and the question he asked me was, "why does my business need SEO?"
The thing is, most SEO experts like me may assume that every business owner knows why they need SEO. The truth is, some don't. 
Most businesses only focus on PPC, and miss out on the numerous long-term benefits SEO can offer.
So, why does your business need SEO? Here are some of the reasons I want you to know.
1: SEO Can Give Your Business A Healthier ROI:
Who wants a higher ROI from their marketing campaign? The simple answer is; everyone does! A marketing campaign with higher investment and lower returns isn't a successful one. A business may struggle to sustain such a campaign.
So, what online marketing campaign can give you a higher ROI? The simple answer is SEO. You can achieve lower CAC (Customer acquisition cost) with SEO. 
What's customer acquisition cost? It refers to the cost related to acquiring a new customer. 
In what way does SEO lower customer acquisition costs and give you higher ROI? First, let's consider paid search versus organic (SEO) search.
PPC can get your linked landing page to the top of the search engine's sponsored ads list faster, but you have to keep paying for every click you get. So, your ad budget will deplete gradually. You will also notice that the cost of running ads for competitive search terms is higher, which means you could spend more money to run some campaigns. 
Another thing that makes paid ads' CAC higher is this. Once you stop paying, your ads will disappear from the search result page. And consequently, you'll automatically stop getting traffic and clicks. 
With organic search (SEO), you'll keep getting traffic for a considerable period, even when you stop investing in the SEO campaign. So, SEO offers long-term benefits. 
Now, here's something I want you to know. SEO takes time to gain traction, while a paid search can place you at the top of search engines' result page almost immediately. Furthermore, you'll immediately start getting visitors, and clicks from your paid ads, provided you have money in your ad account. Once you stop funding the ads, your campaign ends. 
With SEO, the traffic and clicks may continue pouring in even after you stop investing. SEO can also be crucial for local search and boost your online presence. 
Now, take note of this. The best marketing approach is to pay attention to SEO and PPC, though this depends on your financial capacity. However, if you don't have the finances to run paid ads, concentrate on SEO. 
Note: PPC (Pay-per-click) is an acquisition strategy that requires you to pay a specific amount to place your content in front of an audience. 
2: SEO Is Cost-Effective:
Is SEO one of the most cost-effective marketing strategies? Yes, it is. Why? 
SEO's inbound nature allows businesses to save money. It targets internet users or individuals actively seeking your products or services. 
Most of the people you'll find on your website came because they used a specific keyword you targeted, and your website popped up in the search result.   
Now, here's something you need to know. SEO takes time to gain traction, but the long-term benefits can be impressive when it finally does.
So, how's SEO cost-effective? As I explained before, SEO can fetch you a higher ROI. When well-implemented, SEO's result can be higher than whatever you can get from several marketing strategies. 
A recent online survey by Search Engine Journal showed how massive SEO's impact could be on a business. The result from the survey showed that 49% of businesses accept that organic search has higher returns. 
Furthermore, less than 19% of businesses reported impressive return on investment on paid search. In the same survey, 18% of businesses reported a high return on investment from social media, while 19% claimed email marketing had a higher return. 
Source: SEJ
Note: SEO isn't a one-off marketing strategy, so businesses should avoid treating it as such. You have to keep optimizing to stay ahead of the competition. 
If you relent because you're already ranking for a specific search term, you may lose your position faster than you can imagine.  
A Handy Tip: SEO enables you to reach your targeted audience at the prime time. It places you where your audience can search and find you.    
3: SEO Gives Your Business A Fighting Chance
Only a handful of businesses (startups and small businesses) can afford PPC campaigns, as it could take a huge amount. Some may struggle to sustain or run a PPC campaign, but with SEO, the reverse is the case. 
SEO gives small and established businesses the same opportunities to rank and get organic traffic. Another impressive thing is you can implement your SEO strategy without breaking the bank.  
Note that Google, the biggest search engine, uses over 200 algorithms to rank websites. It doesn't consider business size, financial capacity, or location.
Top Google Ranking Factors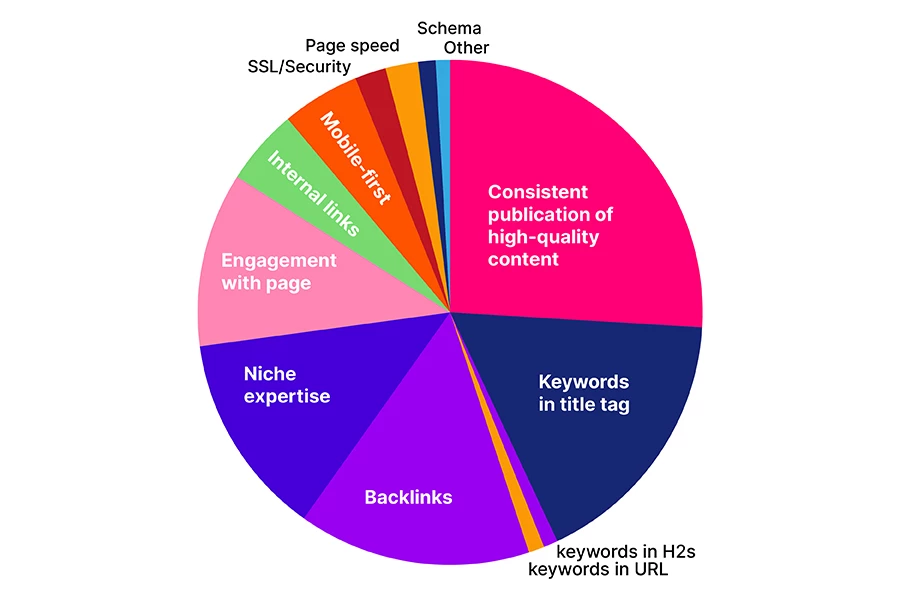 Furthermore, no one can manipulate Google's algorithm to favor their website. Websites are judged and ranked the same way. 
So, your business needs SEO to compete with established businesses. Don't forget that these businesses have the financial muscle to run paid ads for long periods, something your small business or startup may struggle with. 
4: SEO Can Help Your PPC Campaign To Succeed: 
In a PPC campaign, it's all about investing money to get money. A PPC expert can even help you earn $2 for every $1 you invest.
But this doesn't take away the fact that paid search campaigns are expensive. And competitive search terms may even cost more. 
Another thing with paid ads, which I explained earlier, is that the traffic and clicks stops when the money in your ads account finishes. And when your advert stops running, it disappears from the search engine result page. 
So, paid advertising offers short-term results. On the other hand, SEO is long-term, and you can continue getting traffic, including clicks, even when you have stopped investing in the search engine optimization campaign. 
What benefit can pairing SEO and PPC have on your business? SEO and PPC aim to take you to the first page of search engines where prospects can find you easily. 
So, imagine landing on the front page of search engines via SEO and doing the same via paid ads.
The benefit of this is that your audience will find you with ease. How? If they miss your paid ads, they'll find you via organic search. 
Pairing SEO And PPC Can Yield Massive Results 
5: SEO Sends Tons Of Local Visitors To Your Business
According to Google, when people search for something nearby via their smartphones, 76% of them may end up visiting the business within 24 hours.   
The search engine heavyweight also didn't stop there but claimed that 28% of all local searches result in a purchase. 
Now, you can see why SEO is vital for your business. You can increase foot traffic by implementing the best local SEO strategy. 
Another reason local SEO is important is that 80% of leads that visit your business after locating you through local search may likely convert. 
Local SEO statistics you should know
6: SEO Improves The User Experience:
In SEO, you have to optimize for search engines and users. The days of keyword stuffing are over. Now, search engines like Google only reward hard work, which revolves around the quality of content published on your website. 
In 1996, Bill Gates said, "content is king." Many years later, this statement still stands. 
A good SEO involves more than targeting specific keywords that might likely rank higher. It also involves producing quality content that sells a product, educates, informs, and guides customers throughout the buyer's journey. 
Now, here's something you need to know. Producing quality content is one piece of the puzzle. The other is the website you wish to publish the content. You need a well-designed website that looks professional, loads faster, is mobile-friendly, and is a breeze to navigate. 
A responsive and mobile-friendly website can have a massive impact on your SEO. Google loves such websites. 
A Handy Tip: You can incorporate quality content and videos to offer value to your users and increase your chances of ranking higher. 
Remember, a user that had a positive experience on your website may likely purchase your products or take other actions. In addition, you may enjoy repeat patronage.
7: SEO Improves Your Authority And Brand Awareness
The nutritionists would say you're what you eat, and SEO experts would say the same thing. In other words, Eat is used in SEO, though it means something different. 
E-A-T means Expert, Authoritative and Trustworthy.
The question now is, how can you create an EAT profile on the internet? The simple answer is through SEO. 
If your website can have these characteristics, the long-term benefits you'll get would be massive. Besides the high rating from users, search engines will rank you higher than your competitors. 
Now, what's a good SEO strategy? It involves establishing a solid social media presence, securing quality backlinks from websites with high DA (Domain Authority), obtaining positive reviews online, and publishing informative blog posts. 
You can improve your authority by deploying these strategies. And as you become popular across the internet, people's awareness of your brand will increase. You'll reap massive benefits from this awareness and status you have created for your brand. 
Conclusion
So, why does your business need SEO? Having a cleverly-designed website isn't enough. You need high-quality content to promote your brand and help search engines decipher where to rank your website.     
SEO is cost-effective and can give you higher returns. It can also send tons of customers to your local business, help you become an authority in your niche, and improve user experience. 
So, do not rule out SEO even if you're keen on running a PPC campaign. Instead, pair both and increase your chance of running a successful marketing campaign.