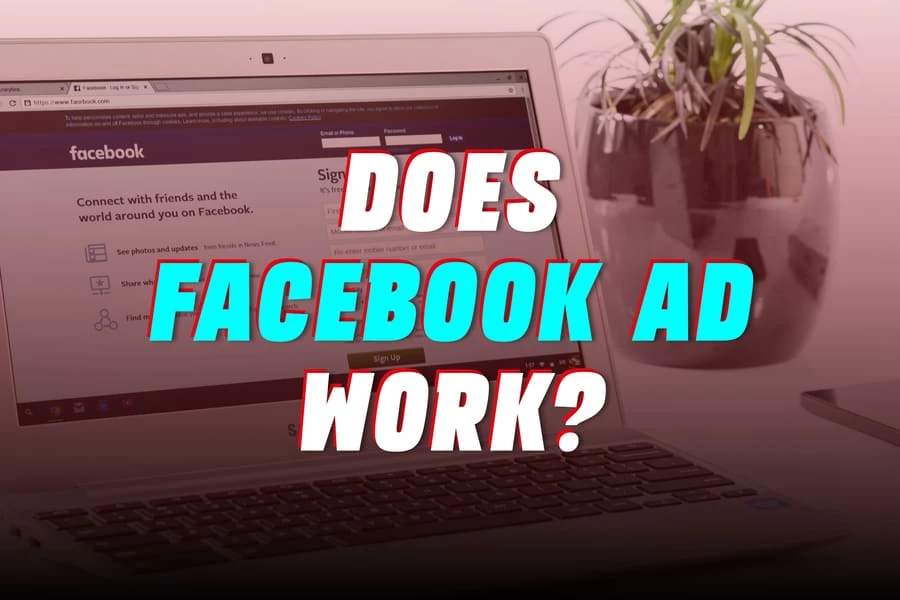 Social media is an integral part of business growth. When I say growth, I mean an increase in sales, revenue, leads, and brand awareness. Facebook, for example, has billions of active users. So, years back, running ads on the platform was a popular marketing strategy that yielded instant results.
Here's one question many have been asking about a popular platform, Facebook. Does Facebook ad work?
Now, let me quickly respond to this. YES, it does! Facebook ads, when managed expertly, can have a massive positive impact on business growth.
So, if you have tried using Facebook ads and got a not-so-good outcome, I am sorry to say that it's not Facebook's fault. Why? The platform is already there. And there are over 3 billion active potential customers, making it the largest social media platform.
So, if your Facebook ads aren't yielding the result you seek, you're not doing it right! Forgive me for sounding like your strict high school teacher. I hate it when people lose money or not get maximum benefits from a platform making others smile all the way to the bank.
In this post, I will focus entirely on Facebook ads. So, stay with me. I promise to pamper you with some good information.
What Is Facebook Ad?
Facebook Ad refers to a paid post that a business uses to promote its products or services to users on the platform.
Here is a Facebook ad example.
Source: P.F Chang's on Facebook
Facebook ads are beneficial for several reasons, which we'll discuss shortly. These ads are targeted to users based on several factors:
Location

Interests

Demographics

Other information
When creating a Facebook ad, you need to set a specific ad budget and bid for every click received or a thousand impressions.
If you have ever ran an ad on Instagram and Facebook, you'll discover the similarities between both. Facebook owns Instagram anyway, so the similarity is understandable.
What's this similarity? Like ads on Instagram, Facebook will ensure your ads are displayed throughout the application.
You'll find the ad on the targeted users' News feed, Messenger, Stories, Marketplace, and more.
Do Facebook ads look different from regular posts? Yes, it does. Looking at the image shared above, you'll discover the word "Sponsored Post."
Facebook is showing you that the post has been paid for. You can see that it's easy to identify an ad on the platform.
Another thing that differentiates Facebook ads from regular posts is their features. You can add various elements, such as a link, product catalog, and a CTA button.
On a regular post, you won't find such features. Facebook only offers you the privilege when you run ads.
Should your Facebook marketing strategy include an ad budget? Yes, it should. Facebook ads are still relevant to this present day.
Don't forget there are over 3 billion active users on Facebook. So, your potential customers are likely on Facebook. You can see that the population of people active on the platform each day is growing.
How Much Facebook Ads Really Cost
When you ask an expert how much Facebook ads cost, you'll get the answer: "it depends."
Several factors determine the cost of running Facebook ads. And as you can see below, different reports gave varied answers on how much Facebook ads cost.
Let's look at each report's average cost of running Facebook ads.
You can see that different reports on Facebook ads cost had varied ranges. However, I would like to inform you that each report utilizes a different data set.
So, the varied data set used is the reason for the difference in ads cost. Campaign strategy and industry can also influence the cost of running Facebook ads. Keep that in mind.
Factors That Dictates the Cost of Facebook Ads
Several factors decide how much a Facebook ad will cost. And you need to know these factors to make an informed decision.
1: Audience Size:
Are you targeting a broader or narrower audience? Note that when you target a narrower audience, ads cost will be higher than when you target a wider audience. That's how Facebook works.
2: How Competitive Is Your Industry?
Note that the higher the competition in your industry, the higher the cost of the ads will be.
The cost of Facebook ads for products or services with high price points is also high. How valuable is the audience that you're trying to capture?
3: Campaign objectives:
What is your main goal for running your Facebook ads campaign? Is it to drive engagement, brand awareness, or conversion? Note that your campaign objectives can significantly impact the cost of your Facebook ads.
That is why you cannot compare the cost of engagement or brand awareness marketing campaigns to conversion campaigns.
Conversion ads campaigns that drive purchases are lower funnel campaigns; therefore, they will likely cost you more money.
But this is simple logic.
It is easier to persuade people to engage or become aware of your brand. Facebook understands this, and that's why they may likely not ask you to pay a premium when running such ads.
The conversion ad is more expensive. It is difficult to persuade people to view, click through the links, and then get them to decide, "I am going to splash the cash on this product or service."
So, a conversion ads campaign is a lot of work. This explains why marketers are charged higher fees.
4: What's your daily budget?
The daily budget refers to the amount you spend on ads daily.
Now, here's something you need to understand. If your daily budget is low, it will take the Facebook algorithm a long time to leave the learning phase.
5: Quality and Relevance:
Facebook awards a score of 1-10 to ads based on their relevance to the target audience. If your Facebook ad receives a higher relevant score, your ad cost will be low.
On the other hand, if the quality of your Facebook ad and relevance score is high, you can expect the overall performance of your ads to improve.
6: Bidding strategy:
I can vividly remember months ago. A friend asked me if he could use Facebook ads without a bidding strategy. My response was yes, he could, but I didn't stop there.
I explained further that advertising bidding should be an integral part of any Facebook ad strategy. Why? Your ad campaign could be successful when you deploy the right ad bidding strategy.
If you neglect the ad bidding strategy, you could lose money. This can happen regardless of whether your audience and ad copy are on point.
Alright, that's just me explaining what I told a good friend about Facebook ad bidding. Now, let's go back to what we were discussing.
How does bidding strategy influence the cost of your ads? How you instruct Facebook to spend your money on your ads budget will determine the cost of your ads.
Here are the bidding strategies:
Manual

Lowest cost

Cost cap

Highest value

Minimum ROAS
7: CTR (Click-Through-Rate)
Can CTR influence the cost of Facebook ads? Yes, it can. Let me explain how.
If you're running a website traffic campaign and you end up getting low CTR, the cost of your Facebook ad will be higher.
Why? The low CTR is giving Facebook a signal that the message you have on your ad and your target audience is not in tone. Something isn't right.
Facebook treasures high-quality and relevant ads. That's why the higher the quality and relevance of an ad, the lower the cost.
So, if your CTR is high, you're passing a message to Facebook that your ad is relevant and high quality. The reward you'll get is a lower CPC.
8: Time of the year:
Before you conclude on your ads budget, remember that seasonality can influence the cost of ads. In other words, certain times of the year, such as holiday periods, may witness a high number of marketers buying Facebook ads.
So, the thing is, if more marketers are targeting an audience, then the cost of ads would increase. By the way, this is in line with AdEspresso's report on Facebook ads.
9: Location:
Location is another factor that influences your ads. The average cost of Facebook ads per country varies widely.
Why You Should Determine Campaign Objectives Before Buying Facebook Ads
The campaign objective is what you want to achieve with your Facebook ads. To control the cost of your ads, you must be ready to set a clear campaign objective.
Please, before you set your objective, I would like you to know that CPC (Cost-Per-Click) benchmark varies based on the campaign objective.
Here is a quick look at the five campaign objectives.
Reach

Conversion

Impression

Link clicks

Lead generation
Types of Facebook Adverts with Examples
Different types of Facebook adverts exist. So, it is up to you to choose the one most suitable for your business needs. This is the advice we give to clients at BitChip digital.
Now, let's discuss each of them and give examples so you can make an informed decision.
First, here's a quick summary:
Video

Image

Carousel

Collection

Slide show
1: Video Facebook Ads:
You can make your ads more eye-catching by using quality videos. The movements in the videos will catch the eyes of your targeted audience when it pops up in their News Feeds.
You can learn about video ads here. But I would advise that you give an expert a chance to plan, create and execute your video ads.
Video ads are significant for businesses looking to showcase a product demo or a tutorial.
A Handy Tip: Your videos can be 240 minutes long. That's the limit, but the shorter, the better. Just ensure it's not more than 15 seconds.
2: Image Facebook Ads:
Image ads are straightforward to make. Another reason most marketers treasure them is that you can use them at any stage on the sales funnel.
In other words, image ads can be beneficial if you're trying to create brand awareness or promote a new or existing product to boost sales.
A Pro Tip: I usually advise people not to use image ads if they have to explain how their product works or display multiple products. Note that the image of the product you're showing is the only product most prospects may associate with your brand.
Source: The Slack Make Work Better Image Facebook Ad
3: Carousel Facebook Ads:
The unique thing about the Carousel ads is that you can have up to ten different images or videos. And each image would represent a different product.
You can also create different landing pages for each product displayed via image or video on Carousel.
I like Carousel ads. Why? It allows brands with multiple products to showcase them in one Facebook ad.
Potential customers can check out the different products you have in store and make a choice. That's how unique and engaging this Facebook ad can be.
Here is an example of the Carousel Facebook advert.
Source: Huckberry Carousel Facebook Ad
A Handy Tip: While large businesses can use the Carousel ads, it is more suitable for small businesses with limited product options.
4: Collection of Facebook Ads:
The Collection ads are more suitable for larger businesses that have a wide array of products to showcase. Users can also purchase products directly from the catalog displayed in the advert.
Another exciting thing about the Collection advert is that you can enable the Facebook algorithm to decide the product it wants to display to a different user.
And like I said, Collection ads are a wise choice for businesses with a wide array of products to display. It is also more immersive than the Carousel ad, by the way.
Source: Howler Brothers Collection Ads
5: Slideshow Facebook Ads:
The Slideshow advert is another excellent strategy to promote your products or services on Facebook. The unique thing about this advert is that you can use images or videos.
You have the liberty to deploy as many as 3 or 10 images in this advert. However, you can only use a single video, which will display in slide format.
But the unique thing about this Slideshow advert is that you're creating a lightweight video advert. In other words, users will spend less data on Slid Show video ads than on a single video advert.
A Handy Tip: Slideshow adverts are so easy to create. You don't even need a video-creating experience to get started.
The lightweight nature of these ads also makes them a wise choice for marketers looking to produce their products or services in areas where the network connection is relatively slow.
Source: Felix Gray Facebook Slideshow Ad
As I mentioned, the Slideshow ads are lightweight, fast-loading, affordable, and a breeze to create. These ads load faster on any device, no matter how poor the user's internet connection.
My Final Thought
Now, I want to assume you know the answer to the question, "Do Facebook ads work?" The answer is yes!
Let me guess. You're thinking Facebook does not work anymore because your campaigns haven't been performing or you haven't been getting a positive ROI for your investment.
Most people don't know how to run successful Facebook ads. So, if you hired an agency for your Facebook ads, and it hasn't been yielding tangible results, that agency needs to change its strategy.
However, if you're in charge of your Facebook campaigns, you must go back to the drawing board and alter your strategy.
My advice to you is to hire a proven digital marketing agency. And if you want to continue doing it yourself, ensure you sprinkle a lot of creativity in your post and keep it simple.