To be a great marketer, you need to know the differences between affiliate marketing vs. digital marketing.
In business, marketing is a crucial practice that increases sales. The marketing practice helps you identify and satisfy customer needs.
Today the two popular marketing categories are affiliate marketing and digital marketing. They are popular because most business practices have gone digital. Ideally, affiliate marketing utilizes digital marketing practices.
The article will clear any confusion you have about these marketing techniques. So, here are the differences and similarities between,
Affiliate Marketing vs. Digital Marketing
It is easy to differentiate between the affiliate and digital marketing. Each type of marketing has its unique roles and structures. Affiliate marketing is under digital marketing, and it uses specific forms of promotional services.
In contrast, digital marketing utilizes various methods to advertise products on different platforms.
What are The Differences between Affiliate and Digital Marketing?
Marketing is shifting from traditional methods to more advanced ones like digital tools. Traditional marketing methods include billboards, radio, door-to-door marketing, newspapers, etc.
Today digital marketing raises much awareness of services and products. Additionally, millions of people earn a living from it. Here are some of the notable differences between the affiliate and digital marketing.
1. Agents
The agents involved in affiliate marketing are affiliate marketers, channels, products, and consumers. On the other hand, agents in digital marketing are products, consumers, and digital channels.
2. Ownership
Affiliate marketing involves building relationships to sell products that aren't yours. You only get a commission from the company/ brand. In digital marketing, you can be the product owner and choose to market them through various mediums.
3. Skills
An affiliate marketer must be great at building relationships and have good convincing skills. On the other hand, a digital marketer should have a great understanding of social media, SEO, and analytics.
4. Spread
Affiliate marketing is simply a sub-component of digital marketing. But it only deals with commission earning. Digital marketing, on the other hand, encompasses various marketing techniques. It's a broad concept, and it carters for various platforms.
5. Purpose
Affiliate marketing only involves promoting products and earning a commission. However, digital marketing has various activities.
They include marketing, promotion, identifying customer needs, and measuring the effectiveness of marketing campaigns.
Overall the primary purpose of digital marketing is to increase brand awareness and traffic. All these lead to better profits.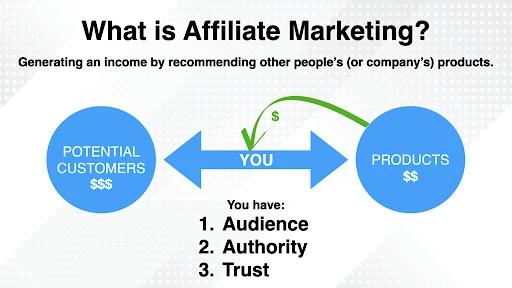 It's simply a type of marketing where affiliates earn commission by promoting other businesses/brands' products. The businesses track affiliate sales using affiliate links.
As an affiliate marketer, you should know the right target market. Plus, you should identify the product that'll be ideal for your target market.
The purpose of affiliate marketing is to redirect clients to broader channels of product sales and marketing.
The Components Of Affiliate Marketing
Affiliate Marketer
Affiliate marketers are also known as publishers. They usually publish various products on platforms where they have a huge following.
Generally, affiliate marketers choose products that are relevant to their demographic. They use their brands to get the likability and credibility of the products.
Customer
It's the affiliate marketer's technique that influences people to purchase products. A customer is the buyer of a certain product.
They usually come across the products through influencers, bloggers, social platforms, or websites.
The good part is that customers don't need to pay extra amounts when they purchase products through affiliate marketing.
Product Owners
The product owners are mostly companies or brands such as Amazon, Rakuten, etc. They are the product creators and sellers.
These product owners provide commissions to marketers for any products sold through their affiliate links.
You can choose to market for any brand, whether small or big. However, ensure they have excellent commission rates.
What Are The Benefits of Affiliate Marketing?
Today, affiliate marketing is quite popular and allows you to reach a huge audience. Consider affiliate marketing if you want to increase sales or make passive income. Here are some of the benefits of affiliate marketing.
It's Remote
The best thing about affiliate marketing or other online jobs is you can do it from home. You don't have to sit in the office or travel to different stores. All you need is a computer or smartphone and a stable internet connection.
In addition, you can schedule your working hours and set goals you can achieve. Meaning you can comfortably work at the pace that suits you.
Needs Little To No Experience
If you want to be an affiliate marketer, don't worry about experience. There are plenty of resources available online with information about affiliate marketing. Alternatively, you can also learn about affiliate marketing from experienced affiliates.
It doesn't Need Inventory.
Affiliate marketing doesn't have inventories. You only need to post your product's affiliate link to your website or social media platform.
You should, however, choose an amazing banner for your website. It should be able to attract people and make them buy the product.
Earn While Promoting Any Product You Want
Affiliate marketing is a great way of making passive income. Each brand/ company has a specific commission rate. Always choose the company that offers the best commission.
However, experts recommend you choose products you are well familiar with. The companies with affiliate programs offer a wide range of products.
It's simply a type of marketing that happens through all digital technologies. Today people refer to it as marketing activities on phones, computers, etc.
Note that digital media is broad and includes various specializations. They are online videos, e-mail marketing, affiliate marketing, etc.
Digital marketing is a very convenient way of promoting products and services. It also allows you to learn about your audience's thoughts and opinions with instant feedback.
Additionally, there are various tools you can use to measure the effectiveness of your various digital marketing campaigns.
The different types and tools of digital marketing are:
1. Content Marketing
In content marketing, you specifically create content to boost your brand awareness. It helps build better relationships with your audience.
Therefore, always create high-quality content through brochures, white books, and infographics. A blog is also a great content marketing tool.
2. Search Engine Optimization
You need a good understanding of SEO if you are a digital marketer. The purpose of SEO is to organically increase article/ blog's ranking, thus boosting the website's traffic.
There are three types of SEO, namely off-page, on-page and technical. It would be best if you understood these types of SEO to use them well.
3. Affiliate Marketing
It's a type of advertisement that pays through commissions. Marketers earn commissions if they successfully sell products using their affiliate links.
There are various channels that affiliate marketers use, such as YouTube, Facebook, Twitter, etc.
4. Social Media Marketing
You can use various platforms like Pinterest, Instagram, and Twitter to gain traffic and boost your digital presence. Amazingly you can use certain platforms to plan content for all your platforms and connect them.
5. Pay Per Click
Google and Facebook ads are other popular ways of promoting your digital content. These techniques are pay-per-click. Meaning you will earn depending on the engagement you got through the advert.
What Are The Advantages of Digital Marketing?
Digital marketing is quite popular today. So, whether you're an experienced marketer or not, you should know its benefits. The information will help you make informed decisions for your business.
It's Cheap
Typically, digital marketing is cheaper than traditional marketing methods like TV, radio, and billboard ads. You'll need thousands of dollars to create and run a traditional ad campaign.
Digital marketing is ideal for all businesses, especially small businesses that don't have money for traditional ads. It will help them reach their potential customers without much struggle.
You'll Reach More Potential Customers.
In traditional marketing, many people will see your products, but most won't buy them. However, with digital marketing, you'll reach a much broader audience with little money.
Plus, you will have more sales since digital marketing tends to be more personal. It'll also help you find more clients from other regions.
It's Easy To Reach Target Audience
Everyone does see your products in the traditional advertising methods like TV, print media, etc. That's regardless of your service or product. Therefore traditional marketing doesn't work well if only a small population needs it.
On the other hand, digital marketing will allow you to reach your specific audience without spending much.
Choosing Between Affiliate Marketing and Digital Marketing
Affiliate and digital marketing do not exclusively work together. But both are online marketing techniques. A better understanding of SEO will help you get more traffic for your affiliate website.
If you are an influencer affiliate marketer, you should understand social media marketing. Ultimately, affiliate and digital marketing help promote products. Note that you can reach a wider audience and sell products faster with a good approach.
Conclusion
Are you still undecided about which is best affiliate marketing vs. digital marketing? Today online marketing is essential for all brands.
Digital marketing will offer holistic marketing solutions for your brand. It focuses on sales and brand awareness.
Affiliate marketing is a highly focused marketing technique. The marketers get a commission for the product they successfully sell through their affiliate links.