Are you a personal injury lawyer seeking help to boost online visibility, and attract more clients? BitChip Digital can help you. 
Car accidents, bike accidents, slips-and-falls and work-place accidents happen now and then. According to the U.S. Department of Justice, over 16,000 personal injury cases make it to the court yearly.
So, why isn't your phone ringing? Why are injury victims in your region not calling your phone? It is obvious that the clients are there. Unfortunately, you're not visible online, but some of your competitors are. 
It's not enough to have a professional-looking website. A good-looking website is not a guarantee that people will find you online. What will give you that online visibility is SEO and we're here to help you.   
What Personal Injury Lawyer SEO Is
SEO is "search engine optimization." It involves all the things you do online to make your website visible on search engines. 
When it's done properly, SEO can help your website rank high on search engines. It will make a personal injury firm's website appear on search engine result pages, when people use keywords related to your profession.
For instance, if you target the keyword "personal injury lawyer in Brooklyn, anyone that uses this search term may find your website in the search result page. 
So, SEO will make it possible for potential clients to locate your law firm's website online. And when they do, they may request free consultation or hire you straightaway. 
Even when a potential client requests a free consultation, there's a chance that they might come back to request your service. The first thing is to make it easier for these clients to find you online, something you can achieve with an effective SEO strategy.   
BitChip Digital Personal Injury Lawyer SEO Strategy 
The idea behind personal injury attorney SEO is to help lawyers find clients. These clients are injury victims who may not have time to watch TV commercials after an injury has incurred.
Instead, these victims prefer to do a simple Google search to find "personal injury lawyer near me" or use other search terms. 
At BitChip Digital, our job is to make attorneys visible online, so that injury victims can find and hire them with ease online.  We offer diverse digital marketing services ranging from web design, SEO (on-site and off-site), content marketing, paid media, and more. 
We have vast knowledge in SEO and help you build your personal injury lawyer SEO strategy from scratch. We will help you create a professional-looking website (if you don't already have one), and utilize best SEO practices to make your PI lawyer website visible online. 
Here are the steps we take to help your personal injury attorney website succeed online. 
1: Create a personal injury lawyer website:
Do you have a website? Understand that you cannot perform SEO without a website. So, the first step is to create a professional-looking website for your personal injury lawyer services. 
We help you create websites that Google and users would love. You'll have a website that loads almost instantly, a breeze to navigate and a joy to view. 
As a personal injury attorney, you don't need a website packed with flashy features. We will make your website simple, yet professional-looking and attractive. 
Do you want a "call now" or "free consultation" button? Let's know what you think. Note that offering free services such as "free consultations" will serve as bait for personal injury clients. It allows potential clients to weigh up their options before deciding to hire you for their cases.
Besides these buttons, adding your biography is another important thing we do on your website.  We'll make your biography catchy, so that clients that read it will have the confidence to hire you. 
2: Make website mobile-friendly and responsive:
When we create your personal injury attorney website, we'll ensure that it's mobile friendly.  Mobile-friendliness is a ranking factor. Google will rank your website higher than your competitors if it's mobile-friendly. 
What does it mean for a site to be "mobile-friendly." It means the site displays properly on all mobile devices. It doesn't show part of the content, but the whole content. 
Study shows that over 60% of people search for information, products and services online via their mobile devices.  So, most of your potential clients will visit your personal injury lawyer website via their mobile device. 
If your website isn't mobile-responsive, its pages won't display properly on mobile as it displays on desktop. Your visitors may have to zoom in and out to read the content or click your links.
Unfortunately, most of your potential clients won't want to waste their precious time doing this. The ones who feel uncomfortable with your website will move to your competitors. 
You can check your personal injury attorney website right away to see if it's mobile-friendly. Use the tools and techniques below to check if your website is mobile-friendly. 
Google PageSpeed Insight:
Google PageSpeed Insight is a free tool developed by Google. This tool is a gift from Google to webmasters because of the things it can do. 
You can test if your site is mobile-friendly with the Google PageSpeed Insight. This tool will also place other information about your website performance in your fingertips.  
Test with your browser: 
Here is another simple way you can determine your website's mobile-friendly. It involves using Google Chrome or Firefox (You can download the browser to your device). Google Chrome doesn't take much space on a device. 
Use a mobile phone:
You can also use your mobile phone to check if your site is mobile-friendly. You can tell from how the content is displayed on your site. Just open your browser and enter the site's URL. Your content will display fully if mobile-friendly.
However, if it's not mobile-friendly, here is what you'll discover: part of the content will be cut off. Another thing you'll notice is you'll have to scroll right, or left to view some sections of the content. 
Chrome Devtools:
Devtools is a popular set of website development tools from Chrome browser and can help you determine if your site is mobile-friendly. 
Run a Google mobile-friendly test:
This test is simple. Just type in your URL and after that, please click on "Test URL." The test result (your website mobile-friendliness status" will pop up. 
Finally, what are the steps to take if your site isn't mobile-friendly? You need a professional to fix the problem. But if you're confident of doing it yourself then fix it. At BitChip Digital, we have a team that specializes in solving these type of problems. 
We will solve this problem in two ways. You have the option to choose the way you want us to work for you. It's either we redesign the site, so it becomes fresh and brand new. Or, we can make the necessary changes in the site. 
How We Make Your Website Mobile-friendly
Some tips on here are steps you can take to make your website become mobile-friendly. 
Compress images

Prevent pop-ups

Declutter web design

Optimize website speed

Use readable and large fonts

Use large and readable font

Change button size and placement

Test your site on a mobile device regularly
3: Conduct keyword research: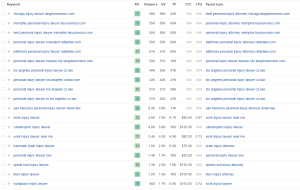 You need to conduct keyword research for your personal injury practice. Keywords are the search terms your potential clients use when searching for a personal injury lawyer to hire. 
When accident victims use the keyword "personal injury attorneys in Texas" or other keywords, they expect to find an attorney in Texas. Some personal injury clients may even use focused keywords like "Personal injury attorneys in Houston, Texas"  
 It's important to target the right keywords if you want your SEO effort to be successful. You should consider targeting long-tail keywords, too.
For instance, "personal injury lawyers in Brooklyn, NY"." You will get qualified leads when you target such focused long-tail keywords. 
When a potential client uses the keyword "personal injury lawyers in Brooklyn, NY," You already know they're looking for an attorney in Brooklyn that can handle their case.
You can see how long-tail keywords are. They contain a combination of three or more terms, while short-tail keywords have only one or two words. Here is an example of short tail keywords: "injury attorneys," etc.
Long-tail keywords help you to attract more qualified leads. These are individuals most likely to become paying customers.
Pro Tip:  Evaluate your keywords properly. Learn about the search volume, including whether they can help you get customers. 
Several tools for keyword research exist. You can try Google keyword planner, Ahrefs, etc. Get keywords with low search volume and place them strategically in the content. 
Places to put your keywords include:
Body of the content

Title

Headings

Meta description

Alt text 
Google bots use your keyword to understand the context of your page. So, keywords help Google determine the niche to rank your website.  
Here are ways to find good keywords for your personal injury website. 
Use Google Planner

Use Google's suggested search

Google trends
4: Produce quality content
You're a personal injury lawyer, a legal professional and an authority in the field. You have probably been practicing law for quite some years now, so you know a lot about what accident victims must do, their rights, etc.
You may offer free consultation to accident victims and get them to hire you. But there is information or solutions some potential clients may be looking for and believe they can find on your website. They don't need to contact you for everything, you know.
You, on one hand, may not have the time to explain to dozens of potential clients over the phone. So what would be the best thing to do? Put some of your knowledge in writing and publish on your website.   
Share your knowledge on various topics. You can write about anything you know about personal injury, rights of victims, etc. Just provide articles that are relevant to your niche. Let the articles convince the readers that you're an authority in that field.
When you write valuable content and solve your visitors' problems, your credibility increases massively. Potential customers will feel confident enough to hire you for their case.
So, draft high quality content and keep your post super rich with facts. Potential clients want to see facts and probably similar cases you have handled, not mere talk alone. 
You can decide to publish an article  daily, weekly or once per month. Just ensure you're consistent with your posts.
Tips for content writing:
 Here are some quick tips for content writing. You can follow them to create quality content.
Conduct in-depth research before you start writing:

You can determine what your potential customers or online visitors are reading. This will cause you to draft content they will love to read.

Vary the keywords:

Don't deploy the same throughout. If you do, you may end up abusing the keyword or doing what's called "keyword stuffing." Google frowns at keyword stuffing, so avoid doing it. Instead of using the same keyword multiple times, use a variety of related keywords.
Follow best SEO practice to give your business a chance to succeed online. Create valuable content that serves the humans that want to purchase your cars and the robot whose job is to show them how.  
Topic ideas for personal injury lawyers:
Here are ideas to consider when writing content for your personal injury lawyer practice.
Stay in your lane:

It's an auto website or blog, so your readers expect to find information about cars there.

Write about things your readers want to read about:

Here are topic examples:

can you do anything when treated by an unlicensed nurse?

Others include "who to call for older adults abuse", "suing for an older adult slip and fall accident," etc. Make your content all about

personal injury and what the law says

. 
Educate your readers about their rights. Give them hope and they'll consider you the best man to handle their case. Remember that competition in the personal injury lawyer practice is high. So, you must do whatever it takes to stand out. Our legal writers at BitChip Digital can help you draft high-quality and SEO-friendly articles.   
Avoid fluffs in your content:

You don't have to write a ten thousand word content to capture your visitors' and search engines' attention. High-quality content will give search engines a good reason to rank your website higher. 
You can rank with a content as small as a thousand words. That's just how search engines work.
Just ensure the content is well-researched, educative, contains valuable information and well-optimized. You can add a few pictures or infographics here and there to make your content catchy.  
Write original content. Your content should be 100% unique, and simple to read. Readability is essential and should be considered when drafting content.

Don't forget to interlink pages of your personal injury lawyer website. In other words, you can link new pages with existing ones. 
 5: Fix your website page load time:
How fast does your website load? Note that website load speed can have a big impact on your search engine optimization effort. If your website loads fast, your conversion rate will likely increase. If reverse is the case, your conversion rate will take a hit. 
So, your website's load speed is a crucial factor you must always monitor. Don't assume your personal injury attorney website is fast and will remain that way forever. Note that the more images and plugins you install on the site, the higher the chances of slowing it down. 
Portent conducted a study and found something remarkable about page load speed. The researchers gave an insight that page load time of 0 to 4 seconds is the ideal page load time for websites to get the best conversion rate. 
Google wants sites to load as fast as half a second. That's within the blink of an eye. Google cares about UX a lot. And like a good business owner, Google cares more for users.   
So, even if you have great content but your site takes several seconds to load, you may still experience a low conversion rate. The worst of them all is that potential clients will leave your site to your competitors. We don't want this to happen to your business, so take the necessary steps to improve your site's speed. 
Just know that your visitors won't sit around waiting for your website to load. They want a solution to their problems as quickly as possible. That's the simple truth. And if you're using a SEO expert that cannot improve your site load speed to below 3 seconds, start looking for another SEO service provider. 
6: Build great backlink profile:
Google has always stated that backlinks are crucial. In fact, they are one of the ranking factors. Backlinks from niche-relevant sites give Google signals that the content on the site linked to it is credible.   
So, if you want your personal attorney website to rank high and get traffic, get backlinks from niche-specific and authority sites. 
The niche-specific sites refer to sites similar to yours. They are sites that talk about similar topics as yours. 
Furthermore, another thing you must consider is the quality of the websites you're getting your back links from. Are they not spammy and suspicious websites? 
Search engine bots will always figure out if the website was created to host your links, or if it is genuine. If it was created to host your personal injury website link, Google would find out somehow, and that isn't a good thing for your SEO effort.
Google has highly sophisticated technology than most people think. It's going to be almost impossible to play a trick on Google and get away with it. So, be real. Practice white hat SEO and get the reward. 
You advise you create a healthy backlink profile. Avoid spammy websites. You can tell a site is spammy via the number of websites linked to its pages. 
What benefits do backlinks bring? Backlinks are one of Google's ranking factors. Thus, your backlinks from niche-specific sites will help improve your website's ranking. 
7:  Acquire online citations:
Do you know most people make a decision after reading a couple of reviews about a business online? So, imagine the impact online reviews can have on your business. It would be massive.
Get high-quality online reviews and mentions from real people. These are great social proof you shouldn't toy with. Remember, reviews help validate your credibility. In addition, it will give your personal injury clients a reason to trust you.
Accident victims are seeking attorneys they can trust. They want an attorney that has helped others win their cases and get massive compensation.  
Where can you get reviews and mentions? You can get reviews on Facebook, Yelp and other business directory. You can even ask your clients to leave some reviews on your website.
The easiest way to acquire mentions is by using an aggregator tool. Examples of these tools include Yext and Moz local.
Now, what do aggregator tools do? They ensure your business details get published in a wide range of inventories. 
You'll have your business address, phone number and name listed on these platforms. With this, potential customers won't struggle to locate your business online. 
Conclusion
These are what you need to know about SEO for personal injury lawyer. You need to know that SEO can help your personal injury website grow. It will make it easier for potential clients to find your website.
You can do your personal injury SEO all by yourself if you have the technical knowledge. But if you don't, we're here to help you get it done professionally. 
We are BitChip Digital, a leading digital marketing company. We help small and established businesses succeed online through SEO. 
You can contact us to help you get your search engine optimization strategy on the right track. Our experts are always looking forward to helping businesses like yours.