How is SEO for family lawyers done? What are the benefits of family attorney SEO? We'll dissect this topic and show you proven strategies to help you get your website to the top. 
As a family lawyer, you want the clients and court cases to keep coming. But how can you achieve this when your site isn't visible online?
Well, that's the reason BitChip Digital is here to help. Using best SEO practices, we can improve your website ranking, traffic, and online reputation, while ensuring you don't face a Google penalty. 
Let's discuss SEO best practices to take your website from where it currently is to the position where it ought to be – the first page of search engine results. 
What Makes SEO For Family Lawyers Relevant?
Martindale-Avvo conducted a survey to ascertain how people use the internet to find law firms. Surprisingly, they discovered that 36% of people use search engines like Google to look for family lawyers that can handle their cases. 
This survey justifies law firms' need for SEO. Whether you're just starting your law firm or have been around for a while doesn't matter. You could miss many business opportunities online if you refuse to optimize your website.
One thing SEO does is improve your position on search engine result pages. In other words, if you follow best SEO practices and continue doing what you did to rank, you'll be in a better place online. 
The primary reason law firms need SEO is search ranking and traffic. Your organic traffic will likely increase when you rank on the first page of search engine results. And when online traffic increases, your revenue, and online reputation will improve. 
Search engine optimization for family attorneys allows law firms to be visible online. Optimization increases online visibility and positions your site for online success. e
Creating a website is never enough. You have to promote it. By promotion, we mean optimizing and making it visible online. This is something you can achieve with SEO. 
Best SEO Practices For Family Lawyers To Improve Website Visibility?

We will discuss different things you can do to make your law firm website appear on the front page of search engines. Of course, the first page of search engine results should be the main priority because it accounts for over 75% of web traffic.
It's not as if people don't visit the second and other pages; they do. Unfortunately, most people feel websites that appear on the first pages of search engine results are the most credible and reliable. 
Now, let's discuss the steps to make your website visible online. 
1: Fix your family law firm website:
If you want to implement an SEO strategy that delivers results, fix your website first. However, if you think your website is good enough and doesn't need fixing, congratulations! But then, we urge you to have this conclusion once you finish reading this post or this particular section. 
Here is how to fix a website for a family attorney. These are the areas you should focus on. 
Relevant Pages: Consider the following pages on your law firm website: 
FAQ Page

Blog Page

Special Offer Page

Practice Area Page
The blog shouldn't be for publishing summaries of laws and claims alone. Instead, it should be kept grounded with real-world issues. 
On the FAQ page, you have to answer questions that people seeking legal services might be asking. Put yourself in your visitors' shoes; what type of question would you ask a family lawyer in certain situations? As a legal practitioner, you know those situations. So use your knowledge and experience to coin different questions. 
Website Mobile-Friendliness: Is the website mobile-friendly? In other words, can visitors move from page to page with ease? Or is the reverse the case? 
The number of mobile device users has skyrocketed over the years. There are over 83.3% of mobile device users worldwide, around 6.67 billion people. So if your family law firm website isn't optimized for mobile search, you'll miss out on massive business opportunities. 
Many potential clients may want to search for legal services on the go. Most people feel comfortable and spend more time on their mobile devices than on desktops. 
Imagine if a potential client manages to land on your website via a mobile search and has a terrible user experience. Will that client spend more time on your page? Or will the client return to your website? Of course, the answer is no. 
You can see how important it is to make your website mobile-friendly. Your family law business will benefit massively from this. Making your website mobile-friendly will contribute positively to your search engine optimization effort. 
Mobile-friendliness is a ranking factor. In other words, Google ranks mobile-friendly websites above others. Don't forget Google is majorly interested in websites' user experience. The search engine giant wants visitors to have a great time using their platform. 
Mobile-friendliness will help increase your search ranking and deliver a great user experience. Organic traffic increases when your ranking on SERPs improves, and you start showing up on the first page of search results. 
When you make your family law website mobile-friendly, you'll deliver a better user experience. Visitors won't start thinking of leaving when they arrive at your website.
Now, how can you make your website mobile-friendly? Here are some quick tips below:
Select a mobile-responsive theme

Avoid flash

Strip back your content

Links should be spaced out

Get rid of pop-ups

The font should be large and readable

Change button size and placement

Images and CSS should be as light as possible
Finally, you have to test your site regularly. Don't assume all is well, and fold your arms. You can see that several factors can make a website not to be mobile-friendly. So you have to test regularly to know if your site is still working perfectly. 
Here are three tools you can use to test if your site is mobile-friendly:
MobiReady

Page Speed Insight

Mobile Friendly Test by

Google
Website Load Time: Some website owners need to pay attention to their website's load speed, while others may need to remember to monitor their site speed from time to time. 
Your family law website is supposed to load fast, and visitors are supposed to have a better user experience. An individual searching for a legal service online has much going on. Thus, patience is likely not something you should expect from such a person.
The good thing is you can determine your family law firm website's load speed. Several tools you can use for this exist.
Check them out below:
Pingdom

GTMetrix

Google PageSpeed Insight

URL Compression Test

Google Cache Checker
How fast should a family law firm website be? Google's ideal site load time is under a second, but we all know this isn't visible. You can make your site load faster with a few steps. That is, choose a reliable web host, compress images, eliminate unnecessary plugins, etc. 
A website load time of 1 – 4 seconds is a good one. You'll get better conversion rates with this website load time. But then, faster is always better regarding website load speed. People don't have the patience to wait for a slow website to load. Instead, they'll move to a competitor rather than waste their time on a slow-loading one. 
Search engines, especially Google, like websites that load fast. Page speed is a ranking factor. Google has repeatedly made it clear that having a fast site helps you rank to rank better. Note that Google has been measuring your website load time and using it in its ranking algorithm since 2010. 
A Handy Tip: A responsive design is another crucial factor when creating or improving your current family law website. A responsive design means a website that displays its content perfectly on any device. 
In other words, the website displays its content on a mobile device, like on a desktop. Your visitors don't have to zoom in and out to read the content or click on links. 
Finally, think of your family attorney website as your physical location. Now, imagine if the entrance door to your office is faulty and takes extra effort to open. How would a potential client that encounters such feel? Most clients may have doubts about entrusting their legal cases to such attorneys. 
This scenario resembles how visitors feel when your website load time is terrible. A website that doesn't load fast will cause you to lose several business opportunities, credibility, ranking, and organic traffic.
Use the suggested tools to test website load time. Don't depend on your computer. Your browser has stored your website cache, so it will keep loading fast. Only new visitors can experience your site's real load time. 
2: Family lawyer keyword research: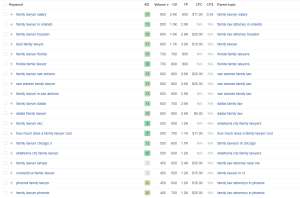 Keywords refer to search terms or phrases people use when looking for information, product, or services online. When a user enters a specific keyword in Google's search bar, Google algorithms match the search term with relevant pages and display results considered most valuable for the search query.
The keyword types include navigational, commercial, or informational keywords. Note also that keywords can be long-term or short-term. The long-tail keywords consist of a combination of several words, and it's what we recommend.
We're not saying you cannot rank online with short-tail keywords. However, most webmasters don't recommend targeting short-tail keywords because they are more generic. In addition, these types of keywords boast high competition. Thus, it won't be easy to rank with short-tail keywords.
Long-tail keywords give you qualified leads. Most of the visitors that'll land on your page will include people ready to hire you for their legal battle. 
Here are examples of the type of keywords we mentioned earlier:
Informational keywords:
An example of an informational keyword is "How to get a divorce immediately." Someone using such search terms on Google needs information on how to leave their marriage as quickly as possible. And only a legal practitioner can proffer the right solutions according to the law. 
When you optimize your content for this keyword and provide valuable content, Google may push your page to the first page of the search results where the user can find you. If you can provide detailed information and convince the prospect that you can help, your website visitors may hire you for the job. 
Take note of the two words: optimized and valuable content. Both are important if you want to rank better. People are looking for attorneys who can deliver results and save time. So they're cautious about their choice of attorney. 
Keyword-optimized content will place your webpage where prospects using the keyword can find the page, while the value of the content will do the convincing. Unfortunately, you'll not be there when visitors are rating your content. 
A Handy Tip: The informational keyword is at the top of the sales funnel, which implies the information-gathering stage. Prospects are still gathering information, though they can decide on the best attorney for the job. 
Commercial keywords:
Here are examples of commercial keywords, "affordable family law attorney near me." Others include "best female family attorney near me," etc. 
Potential clients use commercial keywords when comparing products and services or are about to make a buying decision. You can see the keyword "best female attorney near me." A list of the best female lawyers will pop up and allow the users to choose the option they think is the best. 
A Handy Tip: Potential clients using commercial keywords are in the middle of the sales funnel. And these clients are on the brink of choosing a family attorney to help them. 
Optimizing your content for commercial keywords will help you land more clients online. Google will display your well-optimized and drafted content on the front page, improving your online visibility and traffic. 
Navigational keywords:
An example of a navigational keyword is "Johnson & Johnson Law Firm." You can see that the keyword is the firm's name. That's how navigational keywords are. 
Those using these keywords are at the bottom of the sales funnel. In other words, they are potential clients ready to take action. People use navigational keywords when seeking a website or brand. 
Pro Tip: A robust SEO campaign should include informational, commercial, and navigational keywords. Optimizing your content for these keywords will improve your law firm website's chances of appearing on search engine result pages. 
Here are some of the best tools you can use for keyword research:
SEMrush

AnswerThePublic

Ubersuggest

Ahrefs

Serpstat

Spyfu

Google keyword planner

Long-tail Pro
3: Content writing for a family law firm:
Content is an essential element in any SEO campaign. Your ability to produce high-quality and optimized content will have a massive impact on the results your marketing campaign yields.
Publishing information-packed content will help improve your online reputation. Potential clients will start rating you as someone they can trust to handle their cases successfully. 
On the other hand, Google is highly interested in offering value to users. Thus, it only promotes high-quality content to users. So, if your content is high-quality and well-optimized, Google will ensure it appears on the first page of search engines. 
Keyword placement is also essential in SEO. Keyword helps Google crawlers understand your content's context and decide which category to rank. 
Here are the areas to place your keywords to ensure proper optimization for search engines. 
Meta title

Meta description

Page URL

Body of the content

H1 Heading 

H2 subheading
A Handy Tip: Your keyword should be relevant to the content and blend in naturally. 
4: Local SEO for family lawyers:
Are you aware that 46% of all searches on Google include local intent? So, if you want your pages to appear in local search results, optimize for local search. 
You're running a law firm (legal services) and not selling a product you can ship to any location. So, most of your potential clients conduct their online searches with local intent. They want to find a lawyer in their locality. 
For instance, someone looking for information on custody laws will conduct their search with local intent. The user may use keywords like "custody law in Brooklyn." 
Laws vary from region to region and even within a state. Thus, someone with a legal battle, particularly on child custody, may want a lawyer from the area. It won't make sense to start looking for a lawyer in other states or localities unless you trust them to deliver.
One good thing about local SEO is that most visitors are qualified leads. When people use the search term "best custody lawyer in Houston," there's a chance they want to hire a custody lawyer in the city, as mentioned above, and want to find the best. 
How do you optimize your website for local search? In addition to using intent-targeting keywords, a great way to optimize your website for local search is to use business directories.
Here is a list of online business directories to consider. 
Google Business

Facebook Business Pages

Instagram For Business

LinkedIn Company Directory

Apple Maps

Yelp

Yellow Pages

Bing

MapQuest

FourSquare

Yellow Pages

Manta

Merchant Circle

Local.com

EZlocal

Thumbtack

Better Business Bureau

YellowBook.com

City Squares

Cylex US

Just Landed

USdirectory.com

Call Up Contact
It's essential to add your business to a local directory where potential clients can find you. Include your business information, such as your contact address, phone number, email address, a link to your website, and other relevant information. 
You can also request online reviews from your existing clients. Ask them to rate your business and send them the different platforms to review your work. Other potential clients will find those positive reviews and have more confidence to hire you for the job. 
Reviews also clear potential clients' doubts since they're about to hire someone they have never worked with. Seeing others say positive things about your legal practice and how good you are can inspire potential clients to establish contact with you.
5: Build a robust backlink profile:
Backlinks are a huge ranking factor, so pay attention to them in your SEO campaign. Google considers them a vote of confidence and clues that a page is valuable. 
A healthy backlink profile comprises natural, non-spammy, and niche-relevant links. Get quality links from high-authority websites. 
Conclusion
Here are things you need to know about SEO for family lawyers. Search engine optimization is essential for your law firm's success online. It can help boost your website ranking so you can appear on the first page of search engine results. 
The majority of organic traffic goes to the first page. If your business appears there, you'll get more traffic and boost your revenue. 
At BitChip Digital, we help businesses handle their SEO campaigns while they focus on growing other aspects of their business. You can contact us. Let's discuss how we can help you.