Are you an electrician? Do you know SEO for electrician can set your business apart? Using SEO best practices, we can improve your online visibility and increase traffic to your website. 
As an electrician, you should understand how challenging it can be to get clients. The competition is high, but your electrical business can still attract clients and increase revenue. 
If you have a website, making sure it ranks on the first page of search engines should be a top priority. The first page accounts for over 75% of the total traffic. That's why you must do everything possible to be among those enjoying this massive organic traffic.
You'll find details of the SEO process here and the steps you must take. However, if you need help with your search engine optimization, experts at BitChip Digital can help you. 
Why Is SEO For An Electrician Important?
As an electrician, you might wonder why anyone in your industry should bother about SEO. Aren't things like skillsets, a website, physical location, and qualification more critical?
Of course, these are all important. Electrical jobs require a high level of understanding of electrical installations and operations. No one can work as an electrician without the necessary technical know-how. 
Why is SEO even essential for an electrician? Just go online. Enter the keyword "best electrician near me." Did your website appear in the search result? If your answer is no, then you need effective SEO. 
The benefit of good SEO practice is to catapult your website to the top of search engine result pages. Search engine optimization boosts your ranking too. 
Another reason why electricians need a proven search engine optimization strategy is web traffic. SEO drives organic traffic to your website. 
If you want your traffic to become qualified leads, use long-tail keywords. An example is the keyword we used at the beginning of this section "best electrician near me." 
Let's say you operate around Houston, Texas. You can even find more focused or localized keywords you can optimize for. For example, you can target the keyword "best electrician in Houston." Any internet user that uses this search term is looking for an electrician in Houston. 
That said, with long-tail keywords, you'll receive more qualified leads.SEO not only increases both organic and foot traffic to your website. 
Another reason you need SEO as an electrician is your online credibility. Search engine optimization improves your online reputation and shows your credibility to prospects. 
Of course, part of the strategies you'll deploy in SEO involves content writing. And if you can deliver high-quality content that fixes visitors' problems, they'll be happy to entrust their projects to you. 
At BitChip Digital, we aim to see businesses grow online. We deploy best SEO practices to help companies to improve search ranking, organic traffic, online reputation, and revenue. But if SEO seems too complex for you, let's help you so you can focus on delivering cutting-edge electrical services to clients while we drive more potential clients to your website. 
Effective SEO Strategies For An Electrician
Here are strategies for your SEO campaign.
1: Your website is your shop online:
First, you'll need a website before thinking about SEO. And when we say "website," we're referring to one that is befitting for a certified and well-trained electrician like you.
First impressions matter a great deal. And you have around 10 seconds to convince your visitors that you're worth hiring for their electrical installation project. 
Your website doesn't have to be too flashy or feature-rich. Just make it simple yet professional. In addition, create a blog section (make it possible for existing clients to give reviews on your site too).
The blog section is handy. That's where you'll be publishing your optimized content. Here are other precautions you can take to set your website apart. 
Work on your website load time. You need a website that loads fast to reap maximum benefits from your SEO effort. Ensure your website load speed is 1-4 seconds. Anything more than this should be a call for concern. 

Make your website mobile-friendly. In other words, let mobile users enjoy good UX while surfing your web page. Your content should appear on mobile phones just like on a desktop. Optimize for mobile search because over 60% of your traffic will likely be from mobile devices. 

Does your website boast a responsive design? Please pay attention to this. A responsive website fits into any screen size. It can fit into the tiny screen of mobile phones, tablets, and desktops. Users don't have to do anything for your website to fit into their mobile device screen. 
2: Concentrate on local SEO:
Some website owners only focus on global SEO campaigns, which shouldn't be the case. As an electrician, you have a physical address. Your clients will probably be people around your locality. 
That said, you need to focus your marketing strategy on local search. This strategy will help increase your visibility in local search results. In other words, when people around your vicinity enter a keyword you targeted, you'll appear in the search result. 
Local SEO helps boost the online visibility of electrical contractions. It will expose your business to contractors and customers seeking a professional like you to hire. You'll have more contracts that fetch you higher revenue and the opportunity to showcase complex projects you have worked on. 
3: Create a professional Google My Business Profile:
Another great SEO strategy that can work wonders for your electrical business is to create a GMB profile. GMB means Google My Business profile. 
Listing your electrical installation business on Google Business improves your visibility on local searches. Google Business listing is a free business directory. And listing your business on this platform will make it possible for your business to rank in Google's local map pack or Google Maps, which are the pages that display on the first page of Google search. 
After creating a free Google Business (previously called Google My Business) listing, do the following. This is to maximize your SEO value and achieve the best result possible. 
You have to claim and verify your business listing. 

Include relevant details on your page. These include address, name, contact phone number, and hours of operation. 

You need to include a link to your website. Copy your URL and add it to the page. 

Let visitors know when your business started by including your business opening date. 

Include a keyword on the page. This keyword should blend naturally with your business description. 

Select primary and secondary categories. Please ensure the categories selected are related to your electrical work. 

Now is the time to include specific business attributes. 

If you offer diverse electrical services, now is the time to include them. Add all your services, and remember, the more services you have on the page, the better for your business. 

Now is the time to showcase your work. It's time to add relevant videos and photos to showcase the work you have been doing. Post completed jobs. If you also have images or videos of wiring issues that you fixed, include them on the page too. 

In this phase, you have to generate questions about your electrical services and provide detailed answers to every question. 

The next and final step is to set up messaging. The essence is to create an avenue for communication with potential customers that may want to engage you in real-time via Google Business. 
In addition to listing your business, you can acquire reviews on your Google Business page. Ask your existing clients to leave reviews on your pages. You can show them how to write reviews and how easy the process is. 
Seeing positive reviews about your business online will give potential clients the confidence they need to approach you. People are careful when it comes to hiring for electrical installations. Everyone understands that one silly mistake can prove fatal.
4: Make good use of Yahoo and Bing business pages: 
It's no secret that Google is the biggest search engine. Thus, placing your business on Google is a big hit. Your business will show up in local searches and get more contracts. 
The focus on Google is well-understood. However, this shouldn't be the case, given that other search engines are doing great. Besides Google, Bing, and Yahoo are doing great as search engines. Most people have either Bing or Yahoo as their default search engines.
Bing and Yahoo are the second and third most used search engines globally. So having a business profile on both pages will bring a big push to your business. You'll appear in local searches for related keywords on Bing and Yahoo. This implies that you'll get more traffic and improvement in search ranking. 
Listing businesses on Bing and Yahoo is so easy. Ensure you provide the necessary details and don't fail to update the existing one when necessary. 
5: Conduct comprehensive keyword research: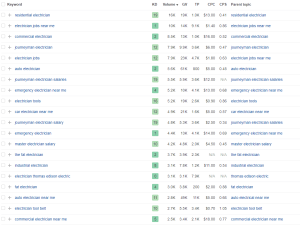 Another essential step to consider is keyword research. Keywords are crucial in SEO. They help search engines understand the context of your content, which is critical for indexing. 
Keywords enable Google crawlers to decide the best place your webpage should rank. Without keywords, it would be difficult for Google crawlers to identify where to rank your website. 
Target keywords that will make your webpage show up in local searches. Your keyword choice should put you in the proper position where local customers, including general contractors, can find you. 
How do you conduct keyword research? Firstly, you have to think like local customers. What keyword will a customer use when searching for electrical repair services? For instance, what keywords do a local customer searching for home remodeling use?
Here are a few examples:
Ohio domestic electrician

Home electrician in Brooklyn

Residential electrician in Houston
Your choice of keywords should be long-tail. Don't target short-tail keywords; they're more competitive, though they boast higher search volume. Instead, target long-tail keywords. 
You can do keyword research with tools. They are free and paid keyword research tools too. However, the best option is to use paid tools if you're serious about running a successful SEO campaign. 
Free keyword research tools may not offer you in-depth information on your keywords. You need detailed information about each keyword to make an informed decision. For instance, you need details about the keywords' difficulty score, search volume, and more. 
Most free tools will provide little detail, making deciding the keyword to use challenging. 
A Handy Tip: Finding the right keyword hinges on keyword relevance. Your keyword must be relevant. Otherwise, it won't make sense to Google. Your keyword should be relevant to what you're writing. 
In addition, you have to place your keyword in the content naturally. Don't try to force anything. Let it blend with the content and place it strategically too. 
Another instruction you need to follow when using keywords is to avoid keyword stuffing. This strategy doesn't have any value anymore. You'll put your webpage in trouble when you stuff keywords in your content. 
Follow best SEO practices on keyword usage to avoid trouble with search engines. You don't want Google to penalize you, as it will jeopardize all your efforts to improve your site's search ranking and traffic.
6: Use separate web pages for each keyword:
After completing your keyword research, what should be the next step? The next step should be to create different pages for each service you render. 
For example, let's assume you're rendering residential electrical service. In this case, you have to create different pages for each service. You can have up to 5, 10, or more pages. And remember that the essence of this process is to have pages that target different keywords. 
You can make a page about home electrical contractor services, another low voltage contractor, etc. Having diverse pages increases your chances of appearing in search engines for that keyword. Google will index each page, boosting its chances of appearing in the search engine results. 
Therefore, having different pages boost your chances of landing online traffic that translates into offline traffic. You'll have higher traffic daily. 
A Handy Tip: In your service pages, you can omit keywords that limit you to a state or local area. Just use the keywords the way you came across them on search engines.
7: Perform on-page SEO:
On-page optimization is the next stage you have to focus on. It is a necessary process for each webpage you have created. It allows Google crawlers and other search engines to understand and index your web page. 
Your webpage can only appear in search engine results once indexed. So, optimize each page using best SEO practices. Furthermore, the optimization should be for the keyword you collected during research and the local area. The reason is to improve your chances of showing up in local searches. 
Here are the HTML elements you need to optimize. However, if the processes seem confusing, experts at BitChip Digital can help you. 
Meta Title:

Having your keyword placed in the Meta title is essential. Your visitors can't see this part of your web page, but Google crawlers will crawl it. So, put your entire keyword in this section so that Google can crawl your page. 

Meta Description

: Meta description is a 160-character long message that displays on the search engine result pages. Place your keyword in the Meta description. Let the keyword phrase start the metal description. After placing the keyword, you can take things further by providing a sales message. Briefly describe your services and use catchy words to encourage potential customers to open your content. 

Page URL

: Ensure this section contains the keyword phrase and separate each word by dashes. Please don't use underscore in this section. 

Body of content

: You need to introduce the keyword in the body of the content. But remember, you must avoid any temptation to do keyword stuffing at this point. You can still rank even if you place the keyword twice or thrice in the content. However, some people suggest using keywords in the body of the content at most five times. Place the keyword in the introduction and sprinkle in the other parts of the content.

H1 Heading

: Have the page metal titled copied here. 

H2 Subheading

: Your keyword phase should be in the first H2 subheading. 
When you target the right keyword and perform on-page optimization satisfactorily, you'll give Google a chance to index your page faster. In turn, you'll appear in search engine results for the targeted keywords and enjoy increased traffic. 
8: Build quality backlinks:
The essence of SEO is to rank high and increase traffic. But when you rank high, how do you sustain the position? The answer is backlinks. Backlinks are considered a vote of confidence to Google. When your web page is linked to a high authority website, Google considers the content highly valuable. 
So, get quality backlinks. Your links should be from niche-specific sites. What we mean by niche-specific includes websites that are relevant to yours. 
Understand you can only benefit from niche-relevant links. In addition, links should be from high-authority websites. 
At BitChip Digital, we perform manual link building. That's how we build backlinks for our clients. The benefit of manual link building is enormous. It gives you control over the quality of links you acquire. 
Manual outreach link building allows you to evaluate each website before requesting a backlink. This is important because you'll discover spammy websites and avoid them. 
Your backlink strategy should empower you to build a healthy and robust backlink profile. By this, we mean a backlink profile packed with natural, non-spammy, and high-authority links. 
In addition, there are different ways to build strong links. Let's go over them quickly.
Guest posting

Niche edit 

Broken links

Editorial links

Guest post bio links

Webinar backlinks

Free tools backlinks
Here are the impacts a strong backlink profile can have on your website:
Improves your website ranking

Increase organic traffic to your website

Help you build brand authority

Improves the crawl rate of your website

Boost revenue via increased foot traffic

An effective way to improve your online reputation
Backlinks are essential in any search engine optimization strategy. Let's remember that they're one of Google's ranking factors. In other words, if you have several high-quality and niche-relevant backlinks pointing to a point, the chance that the page will rank high is enormous. 
Google values quality backlinks. However, keep in mind that poor-quality links will have less impact on your website. 
Conclusion
This post on SEO for electrician gives you in-depth information on strategies you can deploy to rank high on Google search engines. You can see the steps you must follow to improve your online visibility and win more online traffic. 
Search engine optimization might look simple on paper. However, this isn't the case in reality. We're not saying SEO isn't doable. Of course, it's possible. You can perform your optimization by yourself. But if you encounter any challenges or consider SEO to be more complex, you can engage us to help you. 
We are BitChip Digital, a leading SEO agency dedicated to helping businesses enjoy massive success online.