Let's talk about SEO for auto dealers. What are the things an auto dealer needs to do to get more potential customers to visit their websites? SEO is the answer.
Most auto dealers use paid adverts, which is also fine. Unfortunately, sustaining paid ads for the long-term will require more finances.
Most large auto-dealers use paid ads, and they don't neglect SEO. So, if you're an auto dealer, you should focus your attention on SEO.
With SEO, you can attract more visitors and potential clients to your business. And the good news is, you don't need to know how to do SEO. We can help you with SEO, while you focus on other aspects of your business.
We're BitChip Digital, a digital marketing company established to help small and big businesses grow online.
What Is Auto Dealers SEO?
Search engine optimization (SEO) involves strategies deployed online to grow a business. It involves technical SEO, link building, mobile-friendliness, content marketing, and other strategies.
SEO is dynamic. That's why we don't advise you to do it by yourself. Google updates its algorithm now and then. So you must stay up-to-date with every SEO update if you want to benefit from your SEO effort.
At BitChip Digital, we have worked with several auto dealers, helping them rank high on search engines.
We help auto dealers rank for specific keywords, helping their websites appear at the top of search engine result pages.
Our SEO strategy is tailored to help send more potential clients to your official auto dealership website. The content on the website (text, images and videos) will do the final job of convincing your leads to become paying customers.
We use search engine techniques that help increase ranking, traffic and online credibility. We help you grow online using SEO strategies and experience gathered over the years.
SEO For Auto Dealers: Effective Strategies To Grow Your Business Online
The major focus for every business is growth. This includes growth in client-base, revenue and online credibility.
You can use a combination of SEO strategies to grow online. Here are the steps you can take.
1: Your website needs to stand out:
The first and most important thing to consider is your website. You can't do SEO without a website.
A professional web developer can help you design a website that's perfect for an auto dealership company. And feel free to share ideas of how you want your website to look like.
Your website can be simple, yet professional-looking and catchy. Potential visitors should feel that they're on an auto dealer's website when they stop by.
 Have this in mind when creating your website: First impression matters a great deal. You also have a few seconds to impress potential visitors.
What are the things you need to consider when creating a website? Let me spell them out for you. However, our web design experts at BitChip Digital will take care of them for you. You'll have a website that's SEO-friendly and ranks high on search engines.
Ensure your website is mobile-friendly. It should open the same way on all devices.

Your website should have a responsive design.

Your website should be fast-loading. It shouldn't take several seconds to load its content.
A Handy Tip: Even if you have the most elegant website, the elements we just listed now will determine how your SEO effort will play out.
You need a website that will load its content fully on all mobile devices. In addition, your website needs to load fast.
Auto dealers need the help of web designers and SEO professionals to succeed online. Auto dealer's websites usually contain a considerable amount of images, which can slow down a site a bit.
At BitChip, our experts will help compress your images without compromising on quality. Your website will be flooded with numerous high-quality images and yet load fast. That's what we can do for you.
Furthermore, if you have a website, endeavor to monitor its load speed from time to time. You can use the following tools to determine how fast your website loads.
Google PageSpeed Insight

Pingdom

SEO Site Checkup

GTmetrix

WebPage Test

Uptrends

SemaText
You can use any of the tools listed above. Keep an eye on your website load speed from time to time. Don't assume all is well when it's not.
Alright, here are factors that can affect your WordPress website's speed.
The web host you're using

Server-side optimization

Sluggish WordPress plugin (poorly coded plugins)

Slow WordPress theme

Multiple HTTP requests sent from external sources

Using too many plugins
Here are some of the things our web development experts will do to help your site load faster
We will advise you to pick a better host if your current one is not doing well.

Optimize your images. We already spoke about this. Auto dealership website is always image-rich. You sell cars, so you should be able to display them on your website. We will optimize your images to help improve your website load speed.

We'll remove unnecessary plugins from your website to make it load faster. You may even discover that you don't need some of the plugins on your website.

Update your WordPress website. We will check for updates. And if there is one, we will perform it. There's a need to consistently update your theme and plugin to the latest version. In addition to helping your site load faster, updating themes and plugins will give you access to newer features.    
 So, these are steps to enable your website to start loading faster. Our experts usually evaluate clients' websites and give suggestions on steps to take to improve load speed. We'll brief you on the steps to help improve its speed.
 2: Target the right keywords: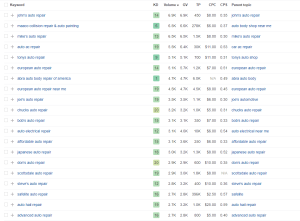 You can't talk about SEO and content writing without mentioning keywords (search queries). You must understand that they go hand-in-hand.
Keywords are essential. But you must understand how to incorporate them in your content.
Keywords are the search queries or terms people use when looking for something online. It could be information, product or services.
In an auto dealer's case, customers may use the search term "Best auto seller in Florida." When you see such a keyword, what comes to mind?
It shows the potential buyer is seeking an auto dealer in Florida, United States of America. You can see that it's a focused keyword.
Keywords can be short-term or long-term. But you're better off targeting long-tail keywords. Why? Majority of the long-tail keywords have low search volume. They're less competitive too.
The short-tail keywords have higher competition. Thus, it would be difficult to rank for these types of keywords. So, target long-tail keywords.
You can use diverse tools to conduct keyword research. BitChip Digital can also help you with free keyword research before the actual project commences.
We will show you various keywords you can target and will allow you to rank high on Google search engine. We will help you target long-term keywords that will bring qualified leads straight to your physical location.
For instance, the keyword "auto dealer in Houston, Texas" indicates that the individual that used the search term is looking for an auto dealer that specifically has a physical location in Houston, Texas. If you target such keywords, and get your SEO right, you'll likely appear in the search engine result pages (SERPs).
A Handy Tip: Keyword use is very important in SEO. It's not enough to find the right keywords. You need to place them strategically in your content.
You must follow best SEO practices when placing keywords on your content. In addition, avoid keyword stuffing.
Keyword abuse can hamper your SEO effort. It can cause your site to hit rock bottom with search engines.
Here are the things search engines such as Google do when you upload content to your website.
Crawl s your website:

Search engine crawlers are busy crawling the web, seeking webpages to add to its ever-increasing index.

Indexes your website: 

Potential clients won't be able to find your website if it's not indexed. Indexing is important for search engines to add your website to its database. However, indexing is where keywords are paramount. It allows search engines to understand your site's context to know the category you belong to.

Server:

Here is another thing Google does to your website. When online users enter the search queries "

best 2019 Prado Jeep

" for example, Google will bring out a list of top-quality answers. If your web page (content bearing the keyword) appears is among those in the search engine result page, it therefore means that Google loves your content.
3: Produce high-quality auto-related content.
You're an auto dealer, not a mechanic. The good thing is you have been in the business for several years and have become an expert on cars.
You may not have the time and energy to share your knowledge on cars to every potential customer to come around or reach you via phone.
Instead, share your knowledge on your website. You can write about anything you know about cars that will activate potential customers' interest in your website.
When you write interesting and valuable content to solve your visitors' problems, your credibility soars. Potential customers will feel confident doing business with you.
So, draft high quality content and schedule your posts. You can decide to publish an article daily (if you know you can keep up with this), weekly or ones per month. Just ensure you're consistent with your posts.
Tips for content writing:
 Here are some quick tips for content writing. You can follow them to create quality content.
Conduct in-depth research before you start writing:

Research to know what your potential customers or visitors are reading about so you can produce content they will love to read.

Incorporate varied keywords:

Don't use the same keyword throughout the keyword. Otherwise, you may end up abusing the keyword or do what's termed "keyword stuffing." Google is against keyword stuffing, so avoid doing it. Instead of using the same keyword multiple times, use a variety of related keywords.
Follow best SEO practice to give your business a chance to succeed online. Create valuable content that serves the humans that want to purchase your cars and the robot whose job is to show them how.  
Topic ideas for auto dealers:
Here are ideas to consider when writing content for your auto dealership business.
Focus on your niche. It's an auto website or blog, so your readers expect to find information about cars there.

You can write about car technology, mileage, safety tips, availability, prices, new releases, and even the importance of some of the features of various cars.

Avoid fluffs in your content. You don't have to write long-form content to rank. You can rank with a thousand word contents. Just ensure the content is well-researched, drafted and optimized. You can add pictures or infographics to make your content catchy.  

Write original content. Ensure your content is 100% unique, and simple to read. Readability is an important thing to consider when drafting content.

Use visuals professionally. Visuals are great, but please don't overload your content with them.

Don't forget to interlink pages of your website. In other words, you can link the new page with existing ones.
Questions that can guide you to draft high-quality and effective content:
This is a quick tip. It involves asking various questions about your content and finding the right answers to the questions. Here are some of the questions.  
Who are your competitors?

What are the content your competitors have that's perform well and that you don't have?

Do you have any content in your website that's doing great?

What pages are not ranking as you expected.
4: Don't neglect social media marketing:
Facebook is the biggest social media platform in the world. It registers around 3 billion active users every month. But then, Facebook isn't the only social media platform out there.
So, when running your social media marketing campaign, don't focus completely on Facebook alone. You should try other social media platforms to see the outcome.
Target social media platforms where you have the most audience. Do you get plenty of engagements on Twitter, Facebook, Instagram or other popular social media apps you're using? You can determine this from your various accounts on each platform.
Post content on your social media account consistently. It could be text, videos or images of the cars you sell. However, you can hire an expert to run your social media page if you cannot manage it by yourself.
Your content should have a link directing potential customers back to your website. It's easier for potential customers to find you this way. Just write high-quality content and make it attractive to prospects.
The various social media platforms have word limits. You can consider this limit while writing. Convey your points within the limit on the platform.
5: Improve your local SEO strategy:
Local SEO is an effective SEO strategy for auto dealers looking to attract more clients to their physical store. Listings should be a vital part of your marketing campaign if you want to taste success online.
So, local SEO, especially listings on Google My Business can have an impact on a business. Unfortunately, many businesses are not paying enough attention to it.
Most businesses no longer update their data with the right information; include keywords, images or videos.
Other Google My Business Alternatives:
Yelp

G2 Deals

Moz local

SE Ranking

BrightLocal
7: Get quality backlinks: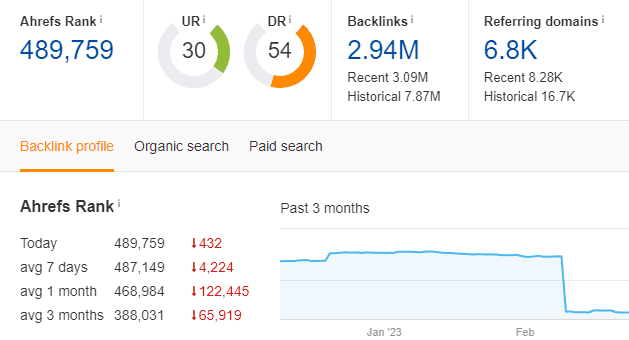 Backlinks are one of Google's ranking factors. So they are very important in SEO. Google values high quality backlinks, acquired from niche-relevant sites.
What is a niche-specific site? Niche specific means the site and yours are similar. You both talk about almost the same thing.
If your website is about cars, then you have to link to a similar website. Your website cannot be about cars but you're linked to another website, probably one that talks about health or lifestyle blogs.
Google will only consider the link juice to pass from the site yours is linked to if the site and yours are of the same niche.
In other words, if you link your site to another that isn't of the same niche as yours, your site won't feel any impact from this backlink.
Another thing to focus on when getting backlink is the quality of links from the site. Is the site's link profile healthy? Or, is it spammy?
Build a healthy link profile. Your links should be from websites that are clean and genuine. Google wants you to acquire your backlinks naturally. It wants your link to be from an authority site.
Avoid spammy sites. You'll know one by looking at the type of links on their pages. These spammy sites are full of links. They get paid to place links on their pages and have links from numerous websites scattered across their pages.
Backlinks can have an impact on your SEO. They are similar to security votes in the eyes of Google. When you link to an authority and niche-specific page, you're telling Google that your page is high-quality.
Google understands that blogs will only agree to link to yours if it's high quality. They believe the content you produce is high-quality and that is why blogs are ready to link to yours.
A Handy Tip: The easiest way to get quality backlinks is to produce high quality content that other blogs or websites will want to link to. Write high quality articles that will add value to your site in the long run.
If you're too busy to draft articles, you can contact BitChip Digital for help. We will help draft high-quality articles in your brand voice.
We know the importance of creating high quality articles. We know how it can benefit your website. High quality articles will attract other blogs to link to yours.
Readers will also be willing to spend more time on your blog, thereby increasing dwell time. All these are beneficial for SEO too.
 8: Optimize for local search:
Did you know that when you optimize for a search query such as "car dealers near me" you're deploying a different approach than when you optimize for a keyword such as "best used cars under 20k"?
People are searching for local businesses online. A person that wants to buy a car and may likely visit your physical location will use the keyword "car dealers near me."
When search engines figure out that a searcher is seeking a local business via search engine, they'll use a different criteria to determine which result to display to the user.
So, if you want to appear on local search engine result pages, you have to re-strategize and start doing the right thing. Let search engines start viewing you as an authority in your community by sending the right signal to them.  
Conclusion
Is SEO for auto dealers worth it? Yes, SEO is worth it. You can increase your website ranking and profit with SEO. You can deploy various marketing strategies to grow your business, but do not neglect SEO.
SEO will help you attract more clients and increase your revenue. It's a technique that can really make you successful online. Various SEO strategies exist and you can deploy the right strategies to grow your business. Just hire the best hands to help you out. Hire BitChip Digital, the leading digital marketing company to help you grow your business and you'll be glad you did.