Do you want your online business to be easily found on Pinterest? If yes, this post about the best Pinterest keyword tools is for you. 
Pinterest has been a significant source of traffic for blogs over the years. It's the number two source of organic traffic, with Google occupying the number one position. 
If you have an account on Pinterest, you should know by now that you need to target the right keyword to boost your visibility. So, in this post, I'll explain top tools to find the right keywords on Pinterest. You'll also get tips on things you can do to succeed on Pinterest.
What Is Pinterest?
If you're a digital marketer or own an online business, Pinterest should be your second home, after Google.
You may wonder why Pinterest is so important to your online marketing strategy. Why not Facebook, Twitter, and other social media platforms? 
Facebook, Twitter, and the other social media platforms are essential for your marketing campaign. You can acquire massive organic traffic from these platforms. 
However, Pinterest stands out and the reason isn't farfetched. This platform focuses entirely on images, while the others combine images, text, etc. 
So, if you're wondering why Pinterest is so popular, you have your answer right there. The platform is unique and uses media content that grasps people's attention easily.  
So what's Pinterest, by the way?
Pinterest is an American social and image-sharing platform created to enable the saving and sharing of information across the internet via images. Besides images, Pinterest supports GIFs and Videos, though on a small scale. 
Founded in 2009, Pinterest is headquartered in San Francisco, California, United States of America. And they reportedly had 3,987 employees in 2022. Evan Sharp, Ben Silbermann, and Paul Sciarra founded Pinterest. 
This platform has been around for over a decade and has been a huge traffic source for bloggers and online businesses. Thus, you're missing something huge if you're not using Pinterest. However, if you're on Pinterest, you must ensure you're using the right keyword. 
Let's discuss the top Pinterest keyword tools you should consider. 
What Are Pinterest Keyword Tools?
Are you on Pinterest? If yes, consider using a Pinterest keyword tool to identify the right promising keywords to remain relevant on the platform. 
The keyword tools are software designed to help you conduct keyword research for Pinterest. Pinterest keyword research tools help you identify relevant phrases and words to target for your boards and pins to make them visible on Pinterest search results. 
It is important to find relevant keywords for your pins and boards. Users can quickly locate you when they enter your targeted words or phrases in the platform's search bar. 
Several keyword research tools exist. We discussed each tool below, so read to know more about each tool and make an informed decision. 
5 Top-Rated Pinterest Keyword Tools To Consider   
Here is the list of Pinterest keyword tools to enable you to take charge of your success on the platform. These tools will help you find relevant keywords for Pinterest, so you can take full advantage of the platform to grow your business. 
Check out the list of tools below. 
1: KeySearch 
Finding a keyword research tool that is free isn't an easy thing to do. Feature-rich free keyword tools in this category deserve more accolades.
KeySearch is a complete keyword tool designed to help you find essential and promising keywords on Pinterest. All you have to do is enter your seed keyword in the search bar, and you'll discover tons of keywords related to your topic. 
The deep analysis KeySearch offers differentiates it from a range of free Pinterest keyword tools. It will give you information on Pinterest's most searched keywords and topics. 
You have to sign up to use this free keyword research tool. The signup process is easy, and once you sign up, you can take full advantage of this amazing keyword generator. 
So when compiling names of the best Pinterest keyword tools, it would be an error to omit KeySearch. The platform is professional-looking and a breeze to understand. You will get details of your keyword that will blow your mind away. 
2: KeywordTool.io:
The KeywordTool.io is another powerful tool designed to help you discover keywords across diverse platforms. It can help you find Pinterest keyword ideas, including keywords for Google, YouTube, Twitter, Instagram, Google Play, Bing, Amazon, App Store, and Google Trends. 
So, if you're seeking a tool that can handle diverse keyword research across several platforms, KeywordTool.io is a wise choice. 
Pinterest is one of many platforms where you can get traffic. Others are search engines and social media platforms. Since your interest is Pinterest, you'll benefit massively from this keyword research tool.
Enter your target keyword, and all related search terms will pop up. In addition, you'll also find details of each keyword, such as the search volume, to make an informed decision. 
The details for each keyword include search volume, trend, CPC, and competition. You'll discover how competitive the keywords are to gauge your chances of ranking for them.  
The KeywordTool.io Pro is the paid version and gives you full access to all four keyword analyses (search volume, CPC, Trend, and Competition). They offer three packages: Pro Business, Pro Plus, and Pro Basic. 
The Pro Basic offers bulk search volume analysis of 10,000 keywords daily; the Pro Plus Plan is 50,000 per day, while the Pro Business Plan is 100,000 per day. 
A Handy Tip: The KeywordTool.io free plan gives you access to the keywords for a specific search term. In other words, you'll only have access to the related keyword for that particular search term. 
To gain access to the premium option, you have to subscribe. The price for the subscription ranges from $69 per month to $159 per month. 
3: Pindodo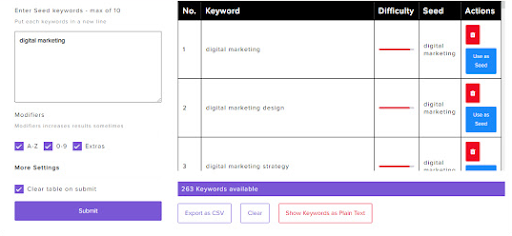 Do you have Google Chrome? If yes, download the plugin called "Pindodo" and watch how it transforms your Pinterest account. Add Pindodo to your Chrome browser and have quick access to conduct extensive Pinterest keyword research. 
This tool claims to offer access to hidden Pinterest keywords. That is, keywords the platform won't reveal to users ordinarily. 
Pindodo has a free and paid version. And like other tools, the Pindodo Pro version gives you access to more information on keywords you can target to rank on Pinterest. 
You'll discover a lot of hidden keywords and tags in this tool, which will help your Pins rank high. Usually, Pinterest only displays around 5 to 10 keywords, which all your competitors probably know about and are targeting.
Pindodo goes way deeper to fetch keywords many of your competitors may not be targeting. You'll find keywords that will give you a competitive edge on Pinterest. 
Pindodo has a free and paid version. The paid or premium version gives you more details on each keyword to boost your chances of succeeding online. 
So, if you want access to hidden keywords and hashtags to have a competitive edge in your niche, try Pindodo. Visit the Chrome Web Store and download it on your browser.
4: Pin Inspector:
Pin Inspector is one of the best Pinterest keyword research tools out there. Forget about the fact that we mentioned it in the fourth position on this list. This tool has what it takes to make your marketing effort on Pinterest a success. 
This tool lets you find top converting content, the best-trending search, and performing ads on Pinterest. Plus, it runs on Windows and Mac computers. Pin Inspector also runs seamlessly on 32-bit and 64-bit Windows computers. 
Note that Pin Inspector isn't a free Pinterest keyword research tool. You have to pay a one-time fee of $67 to access it. This keyword tool lets you access hundreds of popular keywords from Pinterest's autosuggest engine. 
That's not all. You'll also gain access to details about each keyword, such as search volume, CPC, and competition data.
Pin Inspector helps you get fresh keyword ideas to take your bins and boards to another level, growth-wise. Just ensure that you optimize your content well. 
This platform boasts six data extraction tools to make your keyword targeting and Pinterest marketing successful. It shows your Pinterest feed's top-performing ads, including reports of the platform's latest trends.
In addition, Inspector reveals the monthly views that each pinner is getting, including offering a detailed browse and scrape tool. So it's one of the powerful Pinterest keyword research tools and a must-have for anyone that wants to succeed in the platform. 
5: SeoStack Keyword Tool:
SeoStack Keyword Tool is a free Pinterest keyword research tool like Pindodo. You can add it to the Chrome browser as an extension.
SeoStack is a keyword generator that lets you find low-competition long-tail keywords and topic ideas to target for your Pinterest content. 
This free tool provides detailed information that you'll find helpful in your marketing campaign. It has a keyword filtering option for language and country, allowing it to analyze multiple seed keywords simultaneously. 
Besides Pinterest, SeoStack lets you obtain keyword ideas from other platforms. These include Google, Bing, YouTube, Yahoo, Amazon, and even eBay. It also boasts a button to launch the Google keyword planner to obtain detailed information on CPC and search volume. 
How To Make Your Pinterest Profile Successful – Must-Know Tips
The following are things to consider if you want on Pinterest. 
1: Stay away from old content:
On Pinterest, content is everything. The platform doesn't rely heavily on texts like others, such as Facebook, Twitter, etc. Your content has to be images, videos, and GIFs. 
The quality of content published on Pinterest matters a great deal. The platform pays close attention to it. Pinterest features an algorithm that prefers new content. 
Your videos, pictures, GIFs, graphics, and images should be unique and not published elsewhere. Otherwise, your pins and boards won't rank. 
You can publish fresh pictures or images that you have published on your website or blog. But before you do so, ensure you newly published them. However, if you can, just ensure any content you publish on the platform is fresh.  
2: Do all you can to sustain your Pins' relevance:
How do you sustain the relevance of your Pin? The simple process is by customizing your posts. Have them customized to each specific board that you add to it. 
Keeping your Pins relevant will help you acquire more engagements and traffic on the platform. 
3: Think quality, not quantity:
Only inexperienced and desperate Pinterest users will publish numerous Pins to get their numbers up. Posting multiple pins will increase your numbers, but expect results far below your expectations. 
Publishing new Pins and meeting keywords that your Pinterest is pointing to and are relevant to the audience is what counts. 
When you publish 100% unique Pins, you'll experience increased distribution, leading to improved traffic and higher audience engagement. 
4: Don't use the same images multiple times:
Using the same pictures on multiple boards might appear like a good technique. Unfortunately, it is not. 
The Pinterest algorithm is against such. And the impact will be clearly felt in your boards' ranking. Audience engagement is another area that would be impacted. You may experience low audience retention and repeat visits. 
Most users might claim changing the text and title of boards fixes the issues that come with using duplicate images. But that isn't the case. Changing the text and title doesn't change anything. The best thing is to use fresh images. 
5: Timing is everything:
Timeliness is essential in Pinterest keyword research. Trends stay active for a specific time. So while they last, you can use the opportunity to increase brand awareness. 
Your keyword research should be timed. And don't forget to consider Pinterest information on trends. Check out the information on various trends to know which one is worth considering.   
6: Pay attention to Pin performance analytics:
Every Pinterest user needs to keep an eye on their Pin performance analytics. What is the analytics showing? Is the Pin performing to your expectation?
If the answer is no, you must take drastic steps to fix your Pin. Tweak it and re-evaluate the result. If it doesn't improve, continue to use different measures. 
7: Treat your followers as humans: 
Most Pinterest users don't treat their followers and visitors as real humans. In other words, they don't engage them. 
When people leave comments on your Pin, respond to them. Visitors like it when Pin owners engage them. 
The benefits you can get from engaging visitors are enormous. It helps in ranking and overall performance of your Pin. Keep in mind also that the more engagements you get, the more likely it will be for your Pins to appear in feeds more often. 
Plus, if you can keep up with such momentum, your followers will increase. So, continue treating your visitors like real humans. Engage them by responding to their comments. 
Another thing you must never forget is the kind of response you give to your visitors' comments. Remember that they're your visitors and you have to treat them nicely. 
If you find any harsh criticism, give a warm response that shows you're not hurt. You can change people's perceptions and views of things by responding in a manner they didn't expect. 
8: Put your posts to the test:
Sometimes, you may create a Pin and not get the desired outcome. It happens most of the time, and when it does don't beat yourself up. 
The best thing to do in this scenario is to test your post. Change the image, title, description, color, background, and anything that requires changing. 
The reason for these changes is to identify the area that needs improvement and know how much impact you made on your Pins. Furthermore, remember to change only one aspect at a time. This way, you'll know the area you fixed and the results you got when you made that particular adjustment.  
9: Evaluate the frequency of your posts:
It's essential to understand how Pinterest works before using the platform. This way, you'll avoid losing followers and increase your posts' chances of appearing in feeds. 
So, how frequently should you post? There is no specific time or period when it comes to how frequently you post. Just keep it moderate. 
Most people may want to tweak and post the same content repeatedly, just to ensure they post frequently. But that isn't a wise decision. Your audience could get tired of consuming the same content and decide to un-follow you, since you no longer provide value.
Instead of tweaking your old Pins to make them look fresh and before reposting them, post unique content that will keep your audience engaged.
10: Don't duplicate Pins:
Understanding how Pinterest works is essential. Does the platform encourage Pinners to post duplicate pins? The answer is no. 
At Pinterest, it's all about engagements. The platform wants you to post different images or videos that will provide varied experiences and engagement for the audience. The platform is against posting duplicate images and URLs. 
11: Embrace consistency:
If you want your Pinterest account to succeed, you must embrace consistency. Be ready to follow SEO best practices and publish fresh content consistently. 
The more you follow SEO best practices, the more Pinterest Algorithm learns about your account. This means your Pinterest profile and account will become super valuable and be displayed to relevant users on the platform. 
12: Boost visibility by following other accounts:
Most people consider Pinterest as a social network. But the truth is; Pinterest is more of a discovery platform than that. 
So, how do you boost visibility on this platform? One of the ways is to start following the right people on the platform. Note that Pinterest considers your following list when deciding where you should appear in users' profiles and boards. 
Your Pins will likely show up in users' followers' Pins when they follow accounts like yours. 
13:  Take full advantage of video Pins:
Images are good, but you must mix things up to stay relevant and obtain different results. Post video Pins alongside images. 
You can provide more details about your brand with a video Pin than an image. Note that video content views have increased 240% from one year to another. 
In addition, video Pins are great for your SEO tactics, as they appear at the top of Pinterest's mobile search results. 
14: Your Pinterest boards should be searchable:
Pinterest boards offer an opportunity to improve your visibility on the platform. But this will depend on your SEO tactics.  
It's essential to make your Pinterest profile SEO-friendly. Use the keyword in your description and chosen name. This way, you'll increase your chances of appearing in search results where users can find and engage with your Pins. 
15: Create original and captivating content:
How can you make a Pinterest profile appear on search engines? How do you make a profile search engine-friendly?
In addition to using the right keywords, you have to publish original content consistently. Publish content users are willing to view, save, and interact with. 
Your content should be valuable and visually appealing to get the attention of users. Remember that these people occasionally come across tons of Pinterest profiles, so you need to do something unique to grab their attention.  
Conclusion
So these are the best Pinterest keyword tools out there. You can fetch the right keywords to target with these tools. 
Each of the Pinterest keyword software mentioned here is unique. They help you conduct keyword research and some provide keyword research across diverse platforms. 
Some of the tools on this list provide in-depth and unique information on keywords. So, go through the features of each tool before making your choice.  
We signed off by sharing tips that can help you succeed on Pinterest. These are tips that can help you take your Pinterest account to another level. Pinterest is a great platform to acquire traffic, and when combined with SEO, the outcome is massive.