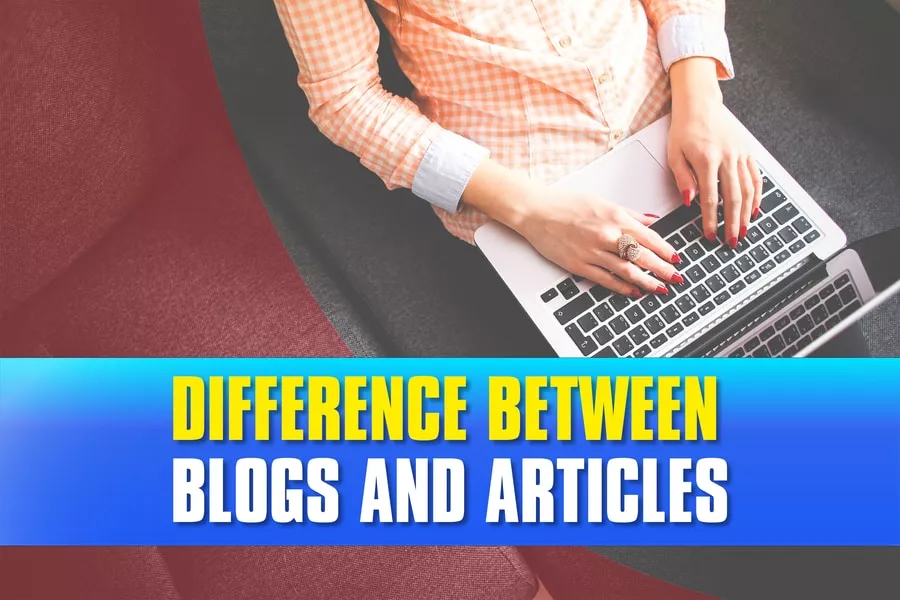 To establish a writing career, you should know the difference between blogs and articles. Both blog and article writing are types of content writing.
Therefore, before checking out blog and article writing, you must first know what "content writing" means.
Content writing is simply the process of planning, writing, and editing website content for marketing purposes.
It helps business owners to increase website traffic and inform their customers about new services and products.
This article specifically focuses on blogs and articles and will help you understand the,
Difference Between Blogs And Articles
It is important to know the difference between blog and article writing when it comes to writing. Blog writing is the most popular form of online writing, and most entrepreneurs use it to reach out to their clients.
But, it's easy to confuse blog writing with article writing, which is different altogether. Confusing the two will affect your overall content, and it might fail to appeal to your core audience as needed. Here are some of the things that differentiate blogs and articles.
1. Style 
Generally, blogs and articles have different styles. In articles, the tone is more professional than in blogs.
Articles need proper spelling and grammar, and you can't use slang or shortened words. You must verify the information in your article by at least adding multiple credible sources or a link in the article.
The articles are edited/ corrected by a professional editor, not the original writer. Contrarily, blog writing has a more casual style. The author talks directly to the reader in this writing, and it's not all about passing information.
Blogs also need good spelling and grammar, but people don't focus much on them. The amazing part is you can freely include your opinion and source your information from a different blog post.
2. SEO Keywords 
If you're reading this article, you've probably heard about SEO. It aims at helping the content reach a wider audience. The SEO keywords are the reasons behind viral blogs and write-ups.
Blog content revolves around SEO keywords; thus, you must incorporate them in your writing. For example, when writing a blog about Donald Trump, you'll have to include key terms such as Former President, USA President, impeachment, etc. It will help the article to get better traction on the internet.
On the other hand, SEO keywords aren't crucial in articles since they are information content pieces.
They do need to compete for top search results. Google has an algorithm that identifies something in an article and automatically ranks it highly. This is regardless of little to no optimization.
3. Objective
It's probably the biggest difference between blogs and articles. The purpose of blogs is usually to create/ inform about a particular update or offer an opinion about a topic. Businesses use blogs to inform readers and customers about their services and products.
The blog's purpose isn't to create a perfect representation of the company. They aim to break down any formalities between a business and its customers. It should build a more trusting relationship between customers and clients.
Articles are usually educational, and they intend to inform. They are often void of any specific opinion or bias to give the reader a complete story.
In most instances, the company and individual the article is targeting do not get mentioned in the article. An article blog will only provide evidence-based statements or professional interviews when needed.
4. Length 
You'll be able to tell the content type by looking at its length; however, they sometimes have some exceptions.
Generally, blog contents aren't usually longer than 1000 words. The average word count is about 300 to 500 words.
It's because of their simple role of informing quickly and easily. Blog writers use simple words and explanations while avoiding discussing the topic.
Of course, some topics might need more words, but it is unpopular to come across longer blog posts than typical articles.
On the other hand, an article's word count is usually around 1500 to 3000 words. It's because article writers give a full story, not just a piece, from their point of view.
When writing about an event, they'll include more than the happening. The article will contain information about the organizer, attendees, etc.
Other article writers can deeply analyze certain topics and events. Therefore don't be surprised when you come across an article with more than 6000 words. But such long articles always have more than one writer and editor.
5. Research 
A blog article is an opinion or narrative piece with less stringent research standards. An example of a blog post can be 10 benefits of working from home.
An article example can be "How crisis and quarantine have reshaped company settings." Both topics are about the adaption of new professional circumstances. However, the article topic will need more research and a structured argument.
Blog content will have a few points/ arguments, while article content will need plenty of research. That's because you need to support the information in the article.
6. Reader Engagement
Blog writers create content that can be shared and discussed. They are punchy, short, and subjective, making them sharable. It encourages readers or customers to leave comments or questions.
However, it's rare to find readers discussing articles except in technical and academic articles. Mostly it's other experts that usually comment on article posts and not common readers.
What Were Blogs and Articles Like 10 Years Ago?
Some years ago, the distinction between blog and article content was much clear. Here are some of the popular elements of blog posts.
It reflected the writer's opinion and thus has a personal tone.
A blog post's word count was usually less than 600 words.
It was conversational and had free-flowing information.
There was a space for readers to leave their comments or opinions.
The companies/businesses would exclusively publish Blogs on World Wide Web.
It was self-published.
The article had the following elements:
It had a professional language and tone. There read was like a press release, academic report, or news report.
There was no comment section.
The minimum word count was 2000.
It had factual details and sometimes had citations or costs to support the details.
It had to undergo a professional editorial process.
What Are The Major Changes In Todays Blogs and Articles?
Today blogs are more like articles, and this is because of many poor-quality blogs all over the internet.
Therefore business/ company owners or clients had to raise the bar. Therefore blogs have more interviews and present interesting data. The blog posts are longer than before for better ranking and to offer more value.
Most companies need blogs of about 1000 words, and it's also not uncommon to come across blog posts with 2000 words.
Additionally, the keyword rules lessened as Google cracked down blog content with overly stuffed keywords.
Blog posts are also more professional and dependent on professional editors to correct spelling and grammar.
The changes also apply to article content. Today magazines post their copies/ articles online for everyone to access and comment on.
Suddenly magazines use different headline styles like the blog. Articles need these headlines to help drive traffic to their sites.
Articles have more personal opinions from thought leaders, and writers can now publish them. The word count is now less to shorten prints since ad revenues are now online. Other magazines are now available online, meaning article rules have changed.
For example, their article writing style is more casual and breezier. Today, these two types of content writing are almost similar, making them confusing.
Choosing Between Blogs and Articles
You need to take advantage of writing the best content given the changes. The content should be well paying and allow you to express yourself openly. Firstly, you need to be clear about whether you want to focus on a blog or article.
But remember that you'll need energy, time, and effort to create quality pieces. You should then identify your goals, i.e., why you set up a website, products and services you'll offer, etc.
Article
You should stick to articles if you offer a service that relies on research, laws, process, and factual information. The popular services that need article writing include health and wellness, a credit firms, real estate companies, etc.
Blog
Are you after building influence and stature in your specific expertise? It would help if you focused on blogs. For example, you might be a music guru, marketing expert, or wedding planner.
Overall, it would be best to keep your article relevant by ensuring it's up-to-date. In case there's new information, you should edit and add it to your content. Always check the document and edit corrections because it isn't usually easy to capture all mistakes at once.
Conclusion
If you don't know the difference between blogs and articles, you are bound to make mistakes when creating either content.
By understanding them, you'll be able to pick the ideal content type for your project. Therefore the project will be more successful, and companies/businesses will likely hire you back.