Are you familiar with Google SERP tracking tools? How can these tools impact your SEO campaign? 
It's essential to keep an eye on your website's SEO progress consistently. That's how you take charge of your SEO campaign and increase your chances of succeeding online. Monitor your website's SERP position for each keyword. 
This way, you can quickly identify underperforming web pages and know where to focus more attention.
Several effective Google SERP tracking tools exist. Check them out below.
What Google SERP Tracking Tools Are
SERP (search engine result page) tracking tools provide data on how the search results for a given search query look like. Some tools provide in-depth data, such as your site's ranking on the SERP, and these are called "rank trackers."
Tons of SERP tracking tools exist, and each one of them has unique or closely related features. You'll find SEO tools that provide historical data about the SERP. These include information on page rank, keywords' CPC, search volume, and more. 
Why Is Google SERP Tracking Important?
 Tracking website ranking is time-consuming, tedious, and confusing when done manually. But with SEO tools, the process can be seamless and easy.  
It's important to track SERP ranking for several reasons. Check them out below. 
1: Pay close attention to your competitors:
In addition to knowing your website's performance and tracking your keywords, SERP tracking tools help you acquire valuable insight about your competitors. 
You'll know when your competitors publish new content or landing pages with new phrases and the performance of those new pages. With this, you can easily deduce what your competitors are doing differently that's helping them achieve success and make necessary adjustments to outrank them. 
Keyword tracking helps you identify competitors that are stealing your traffic. In addition, you'll have clues on the steps to take to reclaim your position on SERPs.     
2: Offers better diagnostic:
If there is one thing website owners dread the most, it's Google's algorithm updates. Once implemented, Google algorithm updates leave website owners scrambling. 
The confirmed updates give website owners enough room to prepare for most surprises. Unfortunately, the unconfirmed ones don't. A website sitting confidently on page one might drop to page two when unconfirmed algorithm updates are implemented. Traffic may also reduce drastically. That's how powerful Google algorithm updates can be. 
Several things can lead to a drop in organic traffic or search ranking. It could be a technical glitch, Google penalty, Google's spam team in action, or a new SERP feature being tested.  But whatever the challenges are, you can identify and fix them with a powerful SEO tool. 
Keyword tracker helps reveal the root cause of the problem. In other words, you'll know the areas that require adjustment and do the needful. 
3: Opportunity to boost revenue:  
A low conversion rate and high organic traffic doesn't translate to online success for a business. Your revenue won't increase this way. 
To improve revenue, you have to improve your conversion rate. You cannot make sales if people only visit your website, read your content and don't take action. 
SERP tracking helps you find out where your website is on the search result page for a given keyword. The data provided will help you identify how people are interacting with your content, making it easier for you to make the necessary adjustment. 
So, tracking your keywords is an easy way to obtain better ROI on your investment. You'll know how your website is performing and act quickly, if necessary. 
Top Google SERP Tracking Tools 
Here are top Google SERP tracking software out there.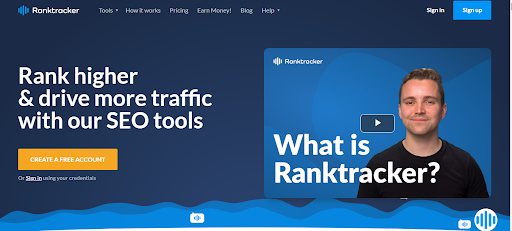 RankTracker is a top tracking tool, considered one of the best for all the right reasons. It's an all-in-one search engine optimization, and SERP analysis tool that gives you the data required to transform your SEO campaign.   
RankTracker is an all-in-one SEO tool. Thus, besides SERP tracking, you'll get comprehensive knowledge of your website's SEO campaign. And with such knowledge, you can easily place your website on the desired path. 
This tracking software boasts a beautiful interface and easy-to-use dashboard. Thus, you don't need technical knowledge to track your website. 
In addition to tracking website ranking and monitoring keywords, this cloud-based SEO management software serves as a keyword finder. Enter any keyword, and this tool will generate a long list of related keywords. 
This platform lets you toggle between mobile and desktop views so you can have a holistic view of how your website is on both platforms. In addition, another thing that sets this SEO tool apart is its report. It delivers detailed and easy-to-understand reports. 
RankTracker is also one of the most affordable tracking tools out there. With $7.20 per month, you can track up to 100 keywords, making it a wise choice for startups with a small budget.
Features of RankTracker:
Rank tracker

Keyword finder

SERP checker

Backlink checker

Backlink monitor

Website audit 
You can see how multi-functional and practical RankTracker is. You can take complete control of your SEO campaign with this tool. 
AccuRanker was designed to solve a problem: keyword tracking in real-time! And this tool's performance shows that it is functioning, as it should. 
This is a state-of-the-art keyword tracking tool, offering in-depth keyword analysis so you can make all the necessary decisions to take your SEO campaign to the next level. It lets you track your keyword and website's organic reach in real-time. 
AccuRanker is cloud-based, just like RankTracker. It is also regarded as one of the world's fastest and most detailed rank tracking tools. 
Unfortunately, unlike most tools on this list, AccuRanker isn't an all-in-one SEO tool. It only performs SERP analytics and rank tracking. 
Several features of this tool endear it to most website owners and agencies. It possesses a unique ability to track keywords and ranking in real-time so that you can make changes on your SEO strategy on demand. You don't have to wait a week or more to learn about your website's ranking and position. 
The real-time tracking by AccuRanker makes it a wise choice for agencies serving numerous clients. You can track tons of keywords simultaneously, though this could get pricey. 
This platform provides valuable information that empowers you to make impactful decisions. For instance, it offers historical data on SERP, including changes in the SERP features and ranking. 
AccuRanker isn't the cheapest rank tracker, though it offers great value for the money. You can track a thousand keywords for just $109 per month, though this increases as the number of keywords increases. 
Features of AccuRanker:
Dynamic CTR tracking

Traffic value tracking

Dynamic competitors tracking 

Track keywords on local search

Track desktop and mobile ranking

Provide daily and on-demand keyword update
A Handy Tip: Traffic value tracking helps you determine how much you would have spent on ads to get the same traffic via SEO. 
SE Ranking is a comprehensive SEO tool featuring a wide range of features highly needed by digital marketers and website owners. It's an all-in-one SEO tool which offers great value for the money. 
This tool offers real-time keyword tracking. You can track your keyword per country, region, and city basis. Plus, you can track keywords on major search engines, not only Google.
Backlinks are an integral part of any SEO campaign. Thus, monitoring them is a wise decision. SE Ranking lets you monitor and control your backlinks to ensure you get maximum benefits from them. 
This tool offers a range of features that meets the needs of a wide range of users. In addition, the features and SEO tools SE Ranking is simple to understand and use. You don't need technical knowledge to take advantage of this tool's rich features. 
Note that this tool won't offer you a ton of data on areas like SERP position, competitors, and SERP features. Instead, what it provides is simple SERP tracking data. These include traffic forecast, average SERP position, and trends across time.   
For an all-in-one SEO tool like SE Ranking, $39.20 is a reasonable price tag. But with this amount, you can only track 250 keywords. 
Features of SE Ranking:
Keyword rank tracking

On-page SEO analysis

Website audit functionality

Backlink tracking functionality

Keyword research and planning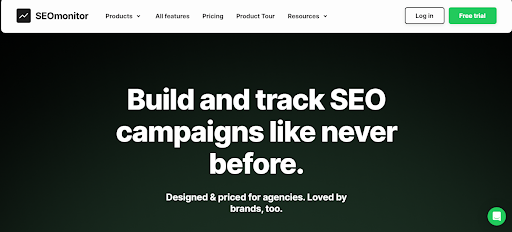 SEOMonitor is regarded as a platform that empowers SEO agencies to monitor keyword performance effectively. It's an all-in-one SEO tool with a multi-function capacity. 
SEOMonitor is unique and complete in some ways. It serves as a rank tracker, keyword researcher, SEO forecaster, and organic traffic analytics and dashboard.
This tool is designed for SEO agencies that are managing websites and SEO projects for many clients. It boasts agency-specific features such as reporting tools and a dashboard. 
SEOMonitor delivers keyword research and tracking with great precision. It also links organic keywords with conversion and sessions. 
This platform has what SEO agencies need to deliver result-driven SEO services. And this makes it one of the best Google SERP tracking tools.
Their pricing depends on the number of keywords tracked. For around 4000 keywords and one website, expect to pay about $217 per month. 
Features of SEOMonitor:
Rank tracker

Keyword research

SEO Forecasting 

Agency Dashboard

Organic traffic analytics
A Handy Tip: SEOMonitor is an all-in-one SEO tool designed for agencies. It boasts diverse features needed to run a result-driven and smooth SEO campaign. 
Here is one tool every website owner should know about and use. Used effectively, Google Search Console can give your website a chance in Google's search engine. 
Google owns this SEO tool. And its initial name was Google Webmaster Tools, though it was changed in 2015. Today, it's called "Google Search Console." 
Google Search Console is a free tool. On this tool, you can submit your site map for crawling and measure keyword performance, such as clicks and click-through rates.
In addition to sitemaps, you can submit individual URLs for crawling. You can also review your index coverage so that Google can have a fresh view of your website. 
The features this free SEO tool has is breathtaking. Another feature you'll find interesting is the email alert from Google when an issue in your website pops up.
The email alert gives you a report on which URL is affected, so you can fix it and notify Google when the issue has been resolved. So, Search Console does more than just provide URL monitoring. 
Below are the features of this Google Search Console: 
Security

Indexation

Page speed

Site speed

Site crawling

Mobile-friendliness and structured data 
Google Search Console is a great tool, given that it is free to access and use. But remember that it has data and visualization limitations, which is a challenge. We're not saying you shouldn't use this tool. 
This Google tool is one of the essential tools every website owner should own and use. Remember, the reports you'll be getting are coming from Google directly. 
We advise combining Google Search Console with other data and visualization tools. This way, you won't miss out on anything.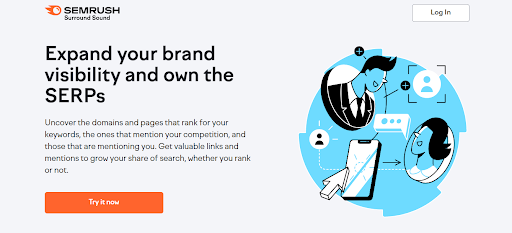 Surround Sound is a unique SEO tool designed by Semrush. It helps unravel data on websites and ranking. 
In addition to tracking website ranking, Surround Sound helps you identify a website that ranks for a specific keyword. 
Let's assume the target keyword you want to learn about is "Best tool for SEO." The unique thing Surround Sound does is to show you which website ranks in different positions on SERPs.  
This tool doesn't stop at revealing websites ranking for a specific keyword. It also shows how many websites mention your brand or link to your website. 
The data provided by this SEO tool can benefit your digital marketing campaign. That's why it's a unique tool for every SEO agency and website owner. 
The Surround Sound dashboard makes rank tracking much easier. The tool is easy to navigate, while the reports are easy to understand. You can track your website and get weekly updates. 
In addition to monitoring website ranking, this SEO tool helps you identify and prioritize opportunities for noteworthy mentions on your most valuable keywords.
You don't need to rank on page one or position one to get valuable mentions on your target keywords. Just find the authority websites ranking for the specific keywords in number one or two positions on SERPs and get them to mention you. 
Below are features of Surround Sound:
Identify and monitor your real competitors

Enable you to acquire valuable mentions on websites ranking in top positions on SERP for a given keyword. 

Build SERP visibility so you can effectively track

If you were familiar with the movie "Nightwatch," it might be the first thing on your mind when you hear about this software. However, we're not talking about the film but an SEO tool that can contribute massively to your online marketing campaign. 
Nightwatch helps you identify missed SEO opportunities. It enables you to discover and use those opportunities to grow your website. 
This tool helps you identify factors driving your sales and traffic on all search engines so that you can make an informed decision. 
Interestingly, it has a 14-day free trial, which is enough time for anyone to make an informed decision. So, you can take advantage of the free trial to see if Nightwatch is the right choice. 
Nightwatch allows you to track your most valuable keywords on multiple locations across the SERP and map pack. It also offers additional features that can increase your chances of winning online. 
You can audit the website and obtain valuable keyword suggestions. In addition, it functions as a global reporting tool. 
Nightwatch offers an affordable plan and mouth watering discount. You can enjoy a 40% discount when you purchase the yearly plan. 
Sitechecker has been a standout SEO tool over the years. In addition to keyword tracking, this tool's site auditing sets it apart. 
It provides detailed audits that many similar tools can't provide. For example, it can identify on-site issues that most website auditing tools might skip. 
Sitechecker is one of the most budget-friendly SEO tools, making it a wise choice for small and mid-size SEO agencies. It is cloud-based, and you can integrate it into your Google Chrome browser as an extension.
With the Sitechecker Chrome extension, you can quickly identify on-page issues and fix them as soon as possible. And by fixing the problems, you can boost your ranking and get valuable traffic. 
So, if you want a tool that can provide valuable tips on improving your website's search visibility and monitoring overall SEO progress, Sitechecker is a wise choice. 
This tool boasts a 14-day free trial, which is enough time for potential users to decide on the software. Another exciting thing is that you don't need to provide credit card details to take advantage of this free trial. 
There are several likable features of this SEO tool. Firstly, it provides detailed website audits and tracking. Plus, it also boasts a security checker that lets you identify loopholes on your website before hackers do. 
For as little as $29, Sitechecker will let you track 500 keywords. Compared to other sites on this page, it's evident that Sitechecker is relatively more affordable.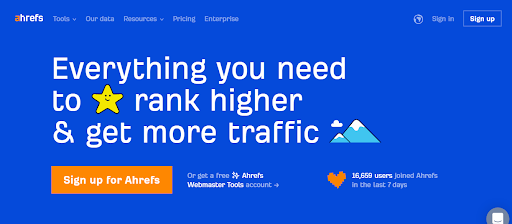 It is surprising to find such a popular tool like Ahrefs on the last spot on this list. Ahrefs is a popular SEO tool and there's no doubt about that. However, it does have certain limitations when it comes to rank tracking. 
Ahrefs doesn't provide daily updates on rank tracking. Instead, it gives an update every 5 days. Another drawback is that it doesn't update all the keywords simultaneously. Rather, the updates are random. 
Ahrefs remain one of the top keyword research tools available. Plus, it has the capacity to track backlinks. 
However, if you're more interested in rank tracking than keyword research, you may be better off with other SEO tools on this list. 
Features of Ahrefs:
Analyze competitors

Track your ranking progress

Audit and optimize your website

Discover content ideas and link opportunities

Find keywords your customers are searching for
A Handy Tip: Ahrefs remains among the top 5 active web crawlers among the numerous SEO tools.  
Serpstat is another unique SEO management platform. It can help with rank tracking, website audits, keyword research, and backlink analysis.    
There are so many things to like about Serpstat. One is its myriad of features, making it a bit similar to Ahrefs. 
Another thing that sets it apart is that it provides detailed visualization of your website's SEO progress, using colors and graphs. It does offer a huge chunk of data that might seem overwhelming, but that isn't the case.  
Features of Serpstat:
Site audit

Backlink analysis

Competitors research 

Keyword research
Conclusion
These are the best Google SERP tracking tools to monitor your SEO progress. With these tools, you can identify pages that are not performing to expectations and fix the issues. Some of these tools offer real-time rank tracking. 
You will find all-in-one SEO tools among the options here. That is, with a single tool, you can perform keyword research, rank tracking, website audit, and more.
All the tools we mentioned here are great, but you have to check out the features of each tool before making a choice. Choose the ideal SEO tool that can help position your website in the right direction. 
Finally, remember the price point varies from one SEO tool to another. So, consider the price point before making a choice.